For years, barns have been a staple of rural America, providing farmers and growers an affordable way to protect livestock and equipment from the elements. No matter where you look, you will likely see them dotting the landscape. However, in decades past, many of these structures were crafted from wood due to its abundance and cost-effectiveness. These days, metal barns have become a prevalent choice due to their strength and longevity. But make no mistake, wooden pole barns are still very much in demand.
But what are the differences between these two farm buildings? Which one is the best option for your needs? Below, we'll pit these two building options against each other to see how they stack up in terms of strength, cost, and durability.
What Is a Pole Barn?
In short, a pole barn is a long-established building style that uses wooden poles for the vertical support beams, trusses, and walls. These poles are driven into the ground to support the structure's weight. Girts are added to the sides for additional strength.
This barn style exploded in popularity thanks to its simplistic design and affordability. They're strong, readily available, and easily constructed, making them the go-to solution for many farmers who need to protect their investments without breaking the bank.
What Is a Steel Frame Barn
Prefabricated metal barns are constructed from galvanized steel and designed and engineered in a manufacturing facility. They're incredibly sturdy and capable of taking on just about any climate or application. They also require minimal maintenance.
Thanks to ever-increasing lumber prices, steel buildings are swiftly becoming some of the most cost-effective construction options on the market. They're highly customizable and arrive at the building site ready for installation.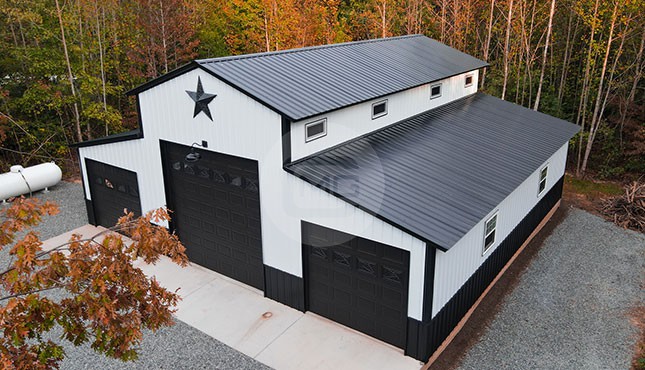 Which Is Better for Me? Metal Barns or Pole Barns?
If you're in the market to purchase agriculture buildings for your farm or ranch, but you're not quite sure what type of structure best suits your needs, we can help! Let's break it down:
1. Structure
As you can imagine, galvanized steel can handle far more strain than any wood. Steel won't degrade, won't decay, and won't easily crack under pressure. As such, wooden pole barns simply can't compete with steel in terms of strength.
2. Cost
In previous years wooden buildings were more cost-effective than their steel counterparts, but increasing lumber prices and construction costs have caused the tables to turn. These days, however, you'll likely find that building a stick-built building can be between 20%-40% cheaper! Simply put, metal barn prices are lower.
3. Available Space
In terms of internal square footage, wooden and steel buildings are reasonably competitive. However, steel buildings, like those constructed with clear span engineering, can be built at enormous sizes without needing internal support beams. This makes steel the clear winner in the category of available space.
4. Assembly
Most wooden buildings require the expertise of an architect to design a structure. This process is lengthy and fraught with issues that can prolong construction. But steel buildings are pre-engineered in the manufacturing facility, with the components delivered to the building site ready to go. As such, metal buildings can be constructed in a fraction of the time it takes to build a similar-sized wooden structure.
5. Insurance Savings
Did you know that insurance premiums on metal buildings are often cheaper than those on wooden structures? This comes down to their relative weather and fire safety capabilities. Since steel buildings are stronger and more resistant to fire, insurance companies charge less to cover them.
6. Maintenance
Unfortunately, wooden buildings are prone to decay and damage if not properly managed. Between rotting wood, damage from insects like termites, and moisture damage, you'll constantly need to keep your building in good order. However, steel buildings are naturally resistant to moisture penetration, oxidation, pests, and fires up to 1,200 degrees Fahrenheit.
7. Durability
Steel buildings inherently take the cake in terms of longevity, thanks to steel being naturally corrosion-resistant. You won't have to worry about components in steel structures rusting or degrading. Therefore, you can almost guarantee that a steel building will outperform any wooden alternative in terms of durability.
8. Security
In theory, both wooden structures and metal buildings provide similar levels of security. When properly designed and maintained, these structures can be complicated to penetrate for would-be thieves and burglars. However, by the rule of design, we must note that steel components are far stronger than any wooden counterparts.
9. Energy Efficiency
Wooden buildings are notorious for allowing airflow and heat loss to occur. This comes down to gaps in construction and materials. But since prefab metal buildings are constructed using modern engineering techniques and precise measurements, they fit together tighter, reducing heat loss. In fact, adequately insulated metal buildings are some of the most energy-efficient structures on the market!
10. Ecological Footprint
Again, steel buildings beat out wooden alternatives, this time regarding environmental impact. Steel production has a much smaller carbon footprint compared to wood. It's also 100% recyclable, allowing building owners to melt their structures and use the material without losing strength!
Metal Garage Central Does Durable Metal Barns Right
For years, Metal Garage Central has proudly been one of America's leading metal building providers. From metal barn kits to enormous industrial structures, we build it right, and we build it to last. We combine our superior engineering capabilities with extraordinary customer service to ensure our customers are satisfied with their building before, during, and long after installation.
We also believe everyone should be able to afford a metal barn, regardless of budget! That's why we offer the best financing terms in the industry, with low-interest rates, and flexible payment plans that put you in control of your purchase!
So, if you've been eyeing a new agricultural building for your farm or ranch, give Metal Garage Central a call at (980) 223-3072. We'll be happy to help you design and build storage buildings, livestock shelters, horse barns, or any steel structure that fits your unique needs!