Are you looking for a carport that will look good next to your house? How about one that is also durable and affordable? Then you need to check out Metal Garage Central's selection of A-frame carports. These boxed eave carports that are built with a sturdy A-frame roof are the perfect solution you've been looking for!
What makes A-frame carports so popular? For starters, these steel carports can be designed and customized to fit your exact needs while staying within your budget. These A-frame metal carports can fit one, two, or three cars. And that's not all these carports are good for. They can be designed for other useful applications as well. The style of these metal carports is also a big hit with both homeowners and business owners. That's because the A-frame roof matches the design of a traditional home or building. With the popular boxed-eave style and our customizable options, it's easy to find an A-frame carport to blend in well with your home or make it fit any other need you have.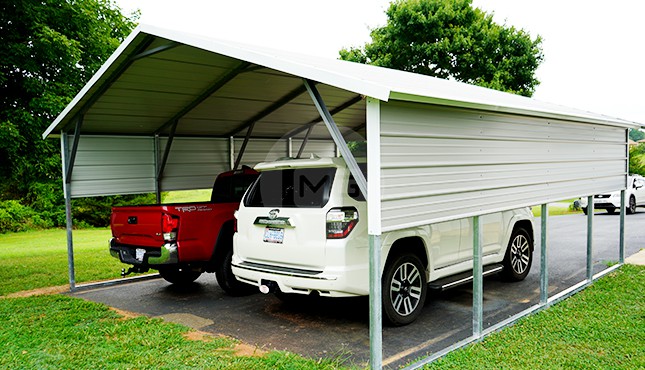 What's So Great About A-Frame Roof Carports?
A-frame steel carports are one of the strongest carport designs available. Like a regular carport, you still get horizontal paneling, but the A-frame design adds extra sturdiness. So, you get a stronger carport at a slightly cheaper price than a premium vertical roof.
The A-frame design is what makes this carport so popular with homeowners. The boxed-eave carport will blend seamlessly with the style of your home. You can even convert a boxed-eave carport into a metal garage by adding side panels. That way, you fully-enclose the carport to offer complete protection from heavy snowfalls, hard rain, and high winds.
A-Frame Steel Carports Make the Best Carports
If you plan on investing in a carport, an A-frame carport is by far your best choice. Why? Pretty much for any reason, you can think of. There are so many uses and benefits to going with an A-frame steel carport. Here are just a few reasons why these carports from Metal Garage Central are a good choice:
Expandable and Adaptable – Steel offers greater flexibility than wood or aluminum. You can also expand your A-frame carport down the road if you need to grow or change your space.
Built to Last – When you buy a steel structure, you're buying something that will stand the test of time. With steel, you don't have to worry about rotten wood that needs to be replaced. You also get stronger protection. A steel building can hold up better in rain, snow, wind, and occasional lightning strikes.
Maintenance is Easy – You know how you have to repaint a wood building every few years to keep it looking its best? Well, you don't have to worry about that with a steel carport. Steel colors don't peel or fade. Cleaning is easy too, just hose it off or pressure wash it once in a while to keep it looking its best.
Fewer Worries – Wood attracts termites and other pests, steel doesn't. So, you won't have to worry about termite damage. You also won't have to deal with mold or mildew either. And if that wasn't enough, there are even fewer fire concerns because steel won't burn.
Many Uses – A-frame horizontal roof carports are perfect for protecting your vehicles, but that's not all. Because of this sturdy and flexible design, a carport can be used for just about anything you can think of. Need a shelter for animals? What about an area to entertain friends outdoors? Boxed-eave metal carports are great for both of those uses. A-frame carports even make great patios and outdoor workspaces too!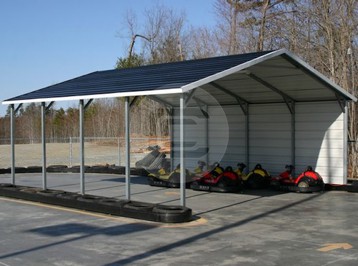 Your A-Frame Carport Designed Exactly How You Want It
Metal Garage Central can design the A-frame carport you need and have it engineered to meet your specific requirements.
Size – A 12'x21' A-frame carport is the perfect size to fit one car or truck. We can provide an A-frame steel carport large enough to fit two or even three vehicles. Think you may need something larger? That's not a problem! We will do whatever we can to meet your needs.
Roof Styles – We also have two other roofs you can choose from:
Regular Roof – This roof is your most economical choice. These carports have a curved roof look that resembles a barn. The panels also run horizontally.
Vertical Roof – This is your premium choice. A vertical roof has vertical paneling that runs on a sturdy A-frame base. This option provides the best protection, so it's recommended for areas with heavy snow, wind, and rain.
Gables, Trim, and Anchors – Add gables to the front, back, or both areas of your metal carport. You even have the option to add decorative J-trim around the edges of your panels. We also customize your anchors based on the type of foundation you will be putting your steel carport on.
Choose your Gauges – Choose your framing and panel strength. We offer a standard 14-gauge steel framing, but we also have a stronger 12-gauge available. And if you live in an area with heavy hail and rain, we have a 26-gauge roofing panel you can choose from. Or you can go with a 29-gauge, which is pretty standard in the steel industry.
Colors – Choose the right colors for your metal carport to compliment your house or other buildings on your property. Our colors are all designed to withstand weathering better than paint on traditional wood carports.
Preparing The Site For Your New Metal Carport
Getting a new A-frame carport isn't as simple as just ordering it. You also have to prepare your site for your installation. We will provide you with the best quality metal building, you will have to provide us with the best quality foundation to put it on. Here are some must-know steps for prepping your site for your installation day:
Check with your county regarding permits and codes
Clear the area of any vegetation and trash
The ground must be level
Lay your foundation - concrete, asphalt, ground, or gravel
Remove all barriers and barricades
Wait for your new A-frame carport to be installed
The Best A-Frame Carport Prices in the Industry
At Metal Garage Central, we offer the best deals on our metal carports. How do we do it? We are lucky enough to have a great relationship with our manufacturers. By working directly with them, we are able to sell our A-frame horizontal carports and other metal buildings for less. Not only are our prices great, but we will also deliver and install your prefab carport at no additional charge!
A standard A-frame carport starts in the range of $1,295, but your final price tag will depend on the customizations, size, and some other factors. The more customizations you add to your carport, the higher the price will be. If you have designed your dream carport, and it ends up being too much, we have two great financing options. Our rent-to-own and financing programs are hassle-free with quick approvals. So, let one of our building specialists know if you're interested in one of the financing options at Metal Garage Central.
Save Money, Install Your Own Steel Carport
If you're looking to save a little money and you love a good do-it-yourself project, then we have a deal for you! Did you know you can buy a custom metal A-frame carport kit and install the carport on your own time? Our prices are already super affordable, but if you get a metal carport kit, you will have to pick up the kit on your own and install it yourself, so you'll get an additional discount. These kits can be completely customized and engineered to fit your exact needs. You will get all the materials that you need, and everything will be pre-measured, pre-cut, and pre-drilled with all the components for installation. So, all you will need are some tools and some time to get your metal carport installed. Skip the step of waiting for an installation team to arrive and put up your steel carport on your own time!
Choose Metal Garage Central for Your A-Frame Steel Carport
At Metal Garage Central, we offer the best carports at the lowest prices. We also have one of the fasted lead times in the industry! Let us help you customize the exact carport you've been looking for. Our knowledgeable building specialists are ready to walk you through the entire process. We are happy to help you design the building of your dreams. Let's get started! Call us at 980-321-9898.
Metal Building Installation Process
How to Order at Metal Garage Central It's Simple & Fast






You're Done
Get your building installed by the expert crew
Happy Installation!!