Barndominium for Sale
Are you someone who's already a fan of barndos? Or are you perhaps new to the term barndominium? Either way, barndominiums, and other metal building homes are taking America by storm! The barn homes craze took off in Texas many years ago, but the momentum has since spread across the Southeast, Southwest, Midwest, West Coast, and pretty much everywhere else.
What's a barndominium? It's pretty much what it sounds like, a cross between a metal barn and a residential condominium. Essentially, these are residential metal buildings that have been engineered for use as fully functional living spaces. In many cases, the structure looks like a barn on the outside, while the inside floorplan can be designed and finished any way you like.
What Makes Metal Homes Better?
Metal barndominiums have garnered an established presence in the Houston, TX area in particular. Why do Houstonians love barndos, you may ask? Hurricanes and tropical storms are a common threat to the Gulf Coast area, so local residents are looking for a home that's built to withstand severe weather threats. And metal barndominiums and metal homes have been shown to stand up to the challenge better than any comparable stick build. A barndominium can be significantly cheaper to build per square foot too, and needs less maintenance than a wood-framed residential building.
Many property owners elect to use a metal building home as their primary residence, while others have found value in using barndominiums as detached apartments, vacation homes, finished office buildings, or for other residential and commercial uses. Metal barndominiums offer wide-open, clear span interiors, so there's no limit to the many ways you can design and divide up your finished living space.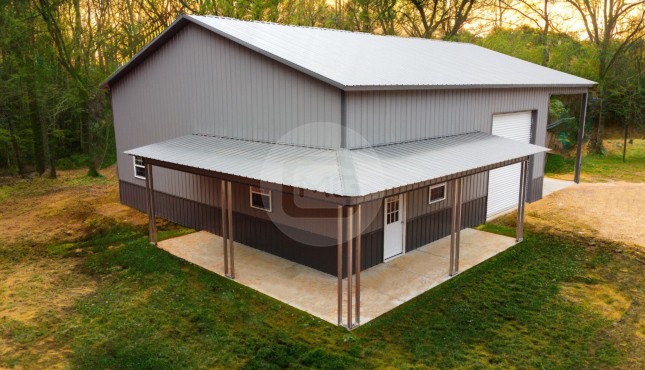 The Benefits of Going with Steel Barndominium Kits
If you've never thought much before about choosing a steel-framed structure for your residential application, there are many reasons why you should!
♦ Barndominium cost
Cost to build is a primary concern for any modern home buyer, especially in the current economic climate. While construction material costs have risen across the board, it's still less expensive to build with steel. And the larger your metal home design, the more you'll save per square foot by going with steel. A steel-framed home is around 30% cheaper to build than a wood-framed home, on average. If building price matters to you, then these numbers should get your attention!
♦ Flexibility of building design
Do you prefer spacious interior layouts, with the option for also including some high ceilings? If so, you'll love what a custom barndominium has to offer. The steel framing is engineered to support the full weight of the roof without needing to include any interior columns or poles. The result is that you have an open interior design plan you can customize any way you like!
♦ Faster construction
Having a stick-built home constructed on your property can take many months or longer. But metal barndominium construction is a much more streamlined process. Each custom steel building component is fabricated, measured, and pre-cut in a dedicated manufacturing facility beforehand, so your barndominium can get put up much faster, with less required labor. And if you prefer, you can even opt to purchase a custom barndominium kit that you can actually install yourself for a discounted price!
♦ Greater energy efficiency
Many folks naturally assume that wood-framed homes are more energy-efficient, but that's not true at all. A well-insulated metal home can be up to 40% more energy-efficient than a stick build. Surprised? Since steel framing is more dense and compact, you actually have more available cavity space for filling with insulation. And more insulation means less demand on your HVAC system, which equates to lower heating & air costs. Including more insulation in your home means greater buffering of any potential external noise pollution, too.
♦ A more eco-friendly building solution
Sure, trees are renewable, but construction-grade lumber isn't always produced in a manner that's environmentally friendly or sustainable. But the steel used in home construction includes a minimum percentage of recycled content and is 100% recyclable itself. Plus, by using precision-fabricated steel components, there's almost no waste material generated on the construction site, so there's less landfill impact when you choose steel. Once you take everything into consideration, it's fair to say that a steel-framed home is one of the most eco-friendly building approaches there is!
♦ Galvanized steel is stronger and tougher
The unique structural properties of steel are another positive to keep in mind. Galvanized steel is naturally strong, tough, and long-lasting. It's more resistant to weather, pest, fire, lightning, and even earthquake threats. A steel building is easier to clean and maintain, too. And since steel structures are known to be more rugged and resilient, they're often cheaper to insure, as well.
Looking for a Perfect Barndominium Solution? Look No Further Than Metal Garage Central!
Metal Garage Central doesn't just provide quality steel structures. We also deliver the best customer service and the most positive customer experience in the industry. And don't forget about our premier metal building financing and rent-to-own options, either!
We're happy to deliver and install your barndominium or other custom metal building at NO extra charge anywhere within our 46-state service area. Prefer to install your building yourself, on your own schedule? We also make custom metal building kits available for a discount. The kits we provide come with all materials you'll need for building installation, all the way down to fasteners and anchors.
Our friendly & knowledgeable building experts are standing by to help! Just give us a call today at (980) 223-3072, and experience the Metal Garage Central difference!