Winters and Boat Storage
Taking your boat out during the warmer months is a fantastic recreational activity. But when colder weather sets in, you'll need a place to store it! During the off-season, harsh UV rays, heavy snow accumulation, and freezing temperatures can damage your boat or watercraft, resulting in costly repairs that can take all the fun right out of hitting the water.
To prevent that, many folks trust metal carports and boat storage buildings to protect their investments. These structures are built from galvanized steel and designed to offer decades of protection.
So, if you're the proud new owner of a boat and you want to know more about properly caring for it, we've got you covered! Below, we'll cover these incredible structures, their benefits, and what you need to know to buy or build your own!
What Type of Boat Storage Do You Need?
If you're not familiar with the metal building industry, finding the right boat storage building can be an exercise in frustration. Many different models are available, but understanding your needs might not be immediately evident. To help make sense of it all, let's take a look at a few structures that may work for protecting your boat.
1. Boat Shelters
A boat shelter is much like an average carport, except it's specifically designed to accommodate your marine vehicle. They're an excellent option for protecting your boat from harsh sunlight, hail, and rain. However, if you want complete protection from the elements, you may need an enclosed building.
2. Boat Garages
Similar to a boat carport, this building is fully enclosed, providing your boats, jet skis, and watercraft with greater protection from the elements. They're strong, flexible, and will do wonders for keeping your boat pristine during the colder months.
3. Boat Carport Kits
A boat carport kit is essentially the same as a standard premium metal carport, except that you construct it yourself. It features the same components- framing, trusses, roofing, and fasteners. Purchasing a boat carport kit can not only minimize installation times but can save you money off the total cost of your structure as well.
4. Utility Buildings
Another enclosed option is the metal utility building. It's strong and sturdy, providing the protection you need at an affordable price.
Why You Need to Store Your Boat During the Winter
The winter months are hard on any piece of machinery. This is also true of boats and marine vehicles. After a summer of enjoying the water, most boat owners will need to store away their craft during the colder seasons. But why go through so much effort to protect a boat that's just sitting there? Below, we'll dive into why winterization and good prep can do wonders to extend your boat's life.
1. Risk of Damage
Crucial components on your boat can wear out during the winter thanks to extreme temperature fluctuations, pests, and harsh sunlight. This can not only result in costly damage, but it can even jeopardize your craft's water readiness.
2. Risk of Storm Damage
High winds, rain, snowstorms, and a litany of other elemental hazards can wreak havoc on your watercraft over the winter months. And depending on the climate in your region, you can expect plenty of volatile weather each season.
3. Risk of Barnacles
A common issue with marine vehicles left in the water with barnacles is that they can be tough to remove and can damage your boat's paint during removal. But by keeping your boat on land in a protected environment, you won't have to worry about these creatures tagging along.
4. Risk of Theft
Security is also a major concern for many boat owners. After all, you can't be around to watch your watercraft at all hours. But with an enclosed building, keeping your boats, jet skis, and equipment secure is hassle-free.
5. Risk of Blistering
Leaving your boat in the water for prolonged periods puts your hull at risk of developing blisters. However, keeping it dry will make these issues less likely to develop during the winter.
How to Properly Winterize Your Boat
As the warm summer fades away into the colder fall and winter months, it's time to prepare your vehicles and equipment for the deep freeze. Below, we've put together a guide on winterizing your boat to prevent damage during the off-season.
1. Wash Your Boat
The first thing you'll want to do is wash the top, bottom, and deck portions of your boat to remove dirt, dust, and pollutants.
2. Fix Any Blistering or Damages You Find
If your boat has sustained any scratches, blistering, or damages over the summer, you'll want to attend to them before stowing away for the winter.
3. Flush Out the Coolant System
To prevent damage to your engines during deep winter freezes, you'll need to flush any coolant and replace it with marine antifreeze.
4. Add a Fuel Stabilizer to Your Fuel Tank
When left unused, gasoline or boat fuel can break down, resulting in significant issues down the line. You'll want to add a fuel stabilizer to your tank to prevent this. This stabilizer will keep your fuel active and ready to go once summer rolls around.
5. Apply an Aerosol Fogging Solution to Your Engine
You'll want to apply an aerosol fogging solution to prevent rust and protect critical internal engine components. By doing this, you'll reduce issues with frozen parts, prevent seizing and extend the life of your engine.
6. Drain the Engine and Change the Oil Filter
If your engine has any other fluids, you'll want to drain them before storing your boat away for the season. After draining the oil, you'll also need to change out your oil filter.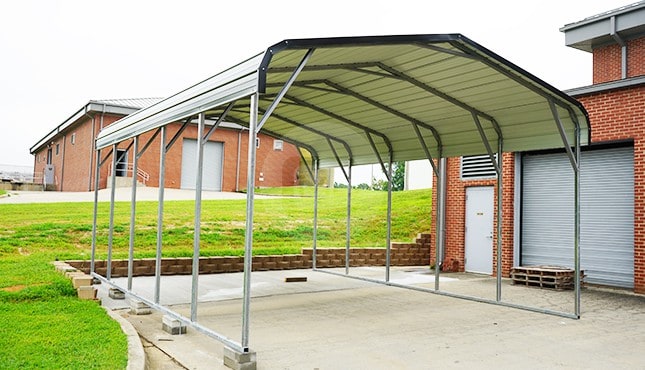 Choosing the Perfect Boat Storage Building for Your Needs
When choosing the proper storage solution for your marine vehicles, we understand if you're unsure where to begin. After all, these structures are complicated pieces of engineering, and knowing exactly what you need might not be immediately apparent. That's okay because we're here to help! So here's what you'll need to keep in mind when choosing your boat carport.
1. Cost
The most crucial element to choosing the right structure is finding one within your budget. By performing the necessary research, you should be able to find a strong, long-lasting, affordable solution.
2. Accessibility
You'll need to use your storage building often, so choosing a building site with easy access is paramount.
3. Building Size
How large of a structure will you need to accommodate your boat or marine vehicle comfortably? Knowing the measurements of your craft will give you a great idea of where to start when choosing the right dimensions for your building.
4. Permits
Most localities will require permanent structures to be fully permitted before construction. This will require you to consult with your local building authority to determine which permits you'll need to have.
5. Customizations
Will your building need additional customizations? Luckily, metal boat carports and steel buildings are fully customizable, giving you the power to change almost every facet of your building to suit your needs.
Frequently Asked Questions
Undertaking the journey of designing and purchasing a metal garage or carport isn't always easy! And we completely understand if you've picked up a few questions along the way. To provide you with the assistance you need, we've gathered some of the most frequently asked questions and compiled them into one list!
1. How much does boat storage cost per month?
In most month-to-month rental agreements, you can expect to pay between $20 and $50 per foot of boat for marine storage. That can add up! So why waste your money when you can purchase an affordable metal building?
2. How much does boat storage cost when you buy your own storage building?
Since you'll be paying for your structure outright, your entire costs are either paid upfront or via financing. In most cases, this option can save you tons of money over a monthly rental model.
3. How wide and tall do doors need to be for a boat garage?
This will depend entirely on the size of your boat. Most traditional storage buildings are built 10′ tall from the foundation to the top of the eave. You'll want to carefully measure your craft and plan ahead to ensure you have sizeable doors and interior space.
4. Can a pontoon boat fit in a garage?
Certainly! Some metal garages are specifically designed to house pontoon boats and larger watercraft. The only limits here are your budget and your imagination!
5. What carport size is right for a pontoon boat?
To properly house a larger boat like a pontoon, you'll need your structure to be a minimum of 12'-18' wide, 20' high, and up to 30' long, depending on the size of your model.
6. Can I store a boat in a storage unit?
While storing your boat in a storage unit might seem like a good idea, you'll have several options working against you. For one, you won't always be able to ensure that the craft is secure. Secondly, you'll be required to pay costly monthly storage fees. And thirdly, you'll risk losing your boat entirely if you don't keep up with rental fees.
Get Your Carport, Garage, or Storage Building from Metal Garage Central Today!
They say the two best days of boat ownership are the first and last. And for a good reason! Keeping your marine vehicles in pristine condition can be incredibly expensive. But why spend all that time and energy on temporary solutions when investing in a permanent carport or metal building is much more affordable?
Metal Garage Central is dedicated to helping your find the right structure for your needs! We pride ourselves on delivering strong, reliable structures that are designed to handle just about anything. From small equipment sheds to enormous industrial facilities, we've done it all! And we can help you!
Not only do we offer some of the best metal boat carport prices, but we make buying them easy with some of the best financing options in the industry! And if you're looking for a month-to-month solution with no contracts, ask about our Rent-to-own program!
Are you ready to dive into a steel structure to protect your boats, jet skis, and watercraft? Then you're in the right place! Give us a call today at (980) 223-3072 and let our team of building experts help you design and customize the carport or garage of your dreams!