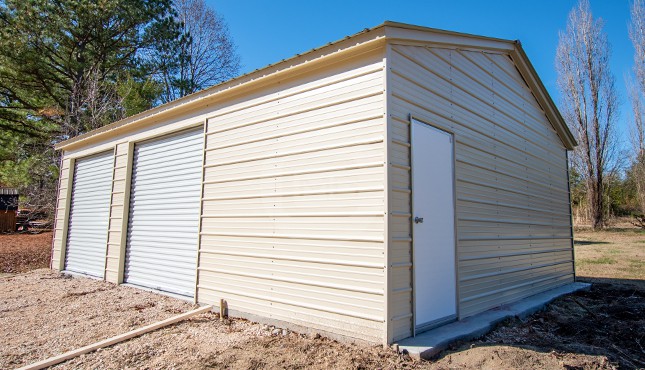 Metal garage sheds are on the rise in the United States. They are versatile, durable, and long-lasting. If you need to protect a vehicle or store your stuff, you need one of these buildings. Metal Garage Central is the best provider of metal garage sheds. Call us today at (980) 949-0615 to get yours!
What's So Great About Metal Garage Sheds?
You might be wondering what the benefits of metal garage sheds are. We're glad you asked!
● Low maintenance
Metal garage sheds are easy to clean and maintain. Sweep and hose off the floor, hose of the sides, and keep a watch on it, and you will be good to go! It doesn't get better than that!
● Easy to install
Metal buildings of all kinds are easy to install, but at Metal Garage Central, our staff is experienced and will get the job done right. Even if you choose to buy a garage shed kit and install it yourself, we assure you that the process will be quick and easy.
● Mold- & mildew- resistant
Mold and mildew can be harmful for your stuff and for you, if you inhale them. Our metal buildings are resistant to these harmful things. You, your stuff, and even your animals will be protected by Metal Garage Central's metal garage sheds.
● Pest-resistant
You will never have to worry about rodents or other creepy crawlers. Steel paneling is too strong for any critter to chew or burrow through. Your belongings will always be safe!
● Fire-resistant
No one wants their stuff damaged or ruined by fire. A fire-resistant building prevents that. Not only does it protect your stuff, but it protects you, too.
● Durable
If you want your stuff protected from the harmful wind, rain, or sun, then you want a metal garage shed. These structures are rugged and durable. They will stand up to anything Mother Nature throws their way!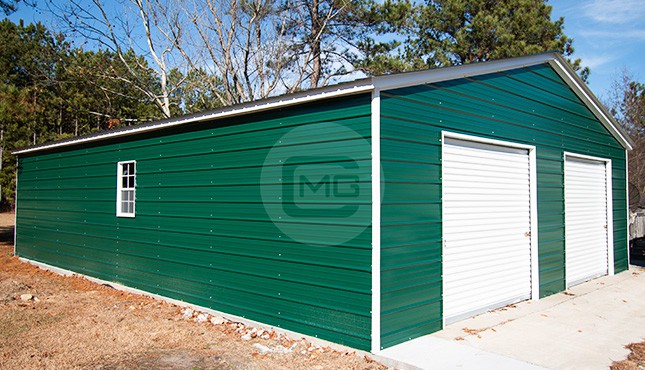 Which Garage Shed Do I Need?
Not all garage sheds are the same. To make sure you get the exact garage shed you need, we have four standard options. Those options are custom garage sheds, single car garage sheds, double wide garage sheds, and triple wide garage sheds. Here are some quick summaries of each one.
1. Custom Garage Sheds
Custom garage sheds are what we are known for. A custom garage shed is exactly what you want it to be. It is exactly the size you desire, exactly the color you want, and has every feature you need. If you want something unique to you, you want a custom garage shed or garage shed kit.
2. Single Car Garage Sheds
Single car garage sheds are a smaller option; they are designed to comfortably house one car or truck. These are great buildings for those who are short on space or have a tight budget. There is no sacrifice here, however. You will still have lots of room for storage space.
3. Double Wide Garage Sheds
A double wide garage shed has twice the amount of space as a single car garage. You can comfortably store two vehicles and still have room left over. Not only that, but if you wanted to use your garage shed for two different purposes, you could! By storing only one car, you'll have lots of space left over!
4. Triple Wide Garage Sheds
Triple wide garage sheds are one of our largest standard options. They are exactly what you need if you plan to use this building for more than one thing. You could store and protect three vehicles comfortably, or you could store only one or two vehicles and use the remaining space for some other purpose.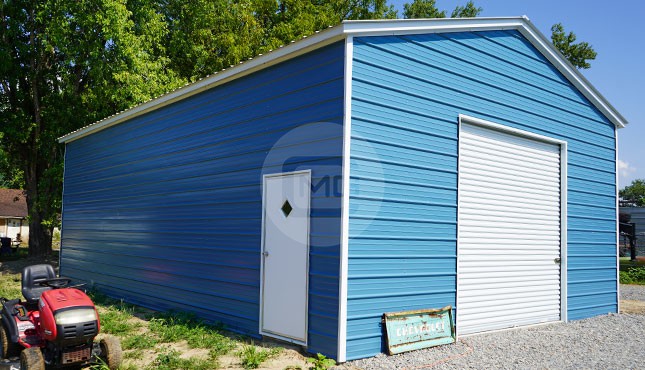 Make it Custom!
Customization is our thing here at Metal Garage Central. Our main goal is to help you create the perfect building for you and your lifestyle. That is the reason we let you customize your new garage shed in every way. Here are some examples of some of the things you can customize: foundation type, the type of windows and doors, the location of windows and doors, the dimensions, the framing and paneling gauge, and the certifications that your steel car shelter will have. You can also choose to add wainscoting, gables, and skylights.
There is one more thing you can customize: the color. Your new metal garage can be one of the great colors we offer. Those colors are: Charcoal, Pewter Gray, Black, White, Barn Red, Green, Tan, Pebble Beige, Sandstone, Brown, Clay, Slate Blue, Galvalume, and Burgundy. You could also choose one of our three premium colors. These exclusive color choices will raise the price, but they are so worth it. They are: Burnished Slate, Copper, and Crimson Red. Our 3D Building Estimator is the best way to see what your building will look like before you buy it.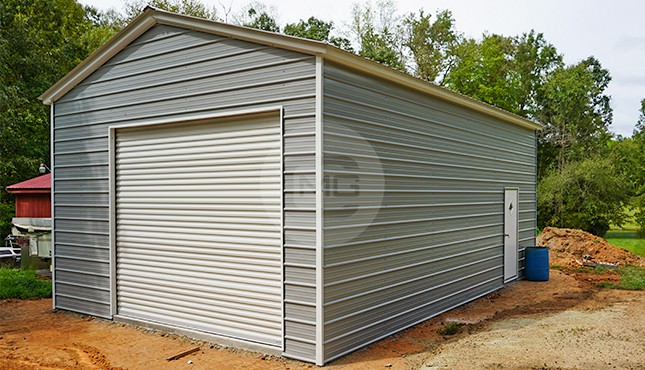 Applications of Garage Sheds
Garage sheds are the most versatile buildings out there. They can be used for absolutely anything, from dairy barns to guest houses. Our customers are even more creative than that, though. We have seen them use our buildings in the most surprising ways. Here are some of our favorites:
● Greenhouse
When you think of garage sheds for sale, you probably don't think of greenhouses. You should, though! At Metal Garage Central, you can add lots of windows and skylights to give you that greenhouse effect. If you are an avid gardener, you've probably wanted a greenhouse for a long time. Call us today at (980) 949-0615 and see how simple it is to get one!
● Pet grooming salon
Lots of dogs require specific grooming, and other people prefer to keep their pooches pampered. Why not cater to this and open a dog grooming salon if you are skilled in that area? Our metal garage sheds are the perfect building for this. They are easy to clean, easy to install, and wallet-friendly. You'll be the groomer to beat!
● Guesthouse
Whether you have relatives staying over or want to make some extra cash through renting, a metal garage shed is the perfect solution. With insulation and utilities, these buildings make beautiful modern houses. If you are looking to make money through renting, these are especially great options because they're more budget-friendly than stick-built structures.
● Home gym
Getting in shape can be hard, especially if you don't have time to make it to the gym every day. What if the gym was at your house? That is possible with Metal Garage Central's premium garage storage sheds. With lots of open space, you have room for equipment, yoga mats, weights, and so much more!
● Home movie theater
Family night just got so much better with Metal Garage Central. By transforming one of our fantastic metal garage sheds into a home movie theater, you will be the talk of the town. The neighborhood kids will always want to be over. Whether you want to host lots of gatherings or have cozy family nights, this home movie theater is for you!
What Will My Garage Shed Cost?
At Metal Garage Central, we provide only the best garage storage sheds. When they are promised the best, many people wonder about the price. We understand that, but we cannot give you a flat price. Every single metal building we sell is completely unique. Each structure can be customized to meet your every need. Since each building is uniquely its own, it has its own unique price. There are several factors that can affect your building's price. The current price of steel, your location, and the manufacturer we work with there are the only factors that are not customization-related. The rest of the factors are. Those customization factors are: your building's color, the gauge of its framing, its foundation type, and any chosen certifications.
We do have a way for our customers who want a real-time price estimate to get one. Our Metal Building Estimator allows you to design your dream garage shed and order it all from the comfort of your home. You can even use it to get a price estimate for that newly designed structure.
Getting a price estimate can help you determine what payment plan is best for you. Our two great financing options here at Metal Garage Central are our Financing program and our Rent-to-Own program. The Financing program is a great option because you can pay off your structure at any time without any penalties or fees. Our Rent-to-Own program is also popular because it has no credit checks, and you will know whether or not you are approved in a matter of minutes.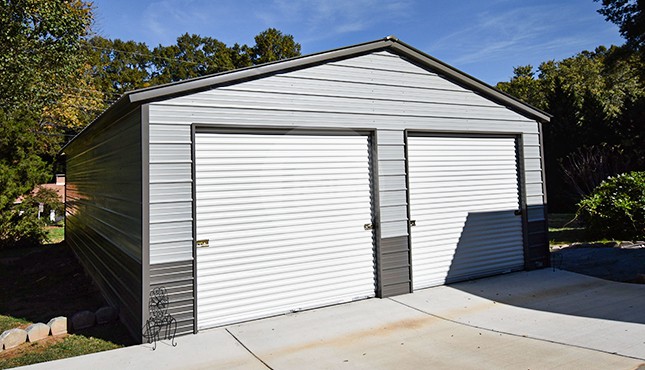 How About a Kit?
Hopefully, you know by now that Metal Garage Central is the premier provider of metal garage sheds. Did you know that we are also the best provider for metal garage shed kits? Maybe you have never even heard of a metal building kit. In that case, a metal garage storage kit is identical to a normal garage shed, with the only difference being that you install it yourself! Our customers have raved about the satisfaction and freedom that they got with installing their own metal garage sheds. We loved hearing about those benefits so much that we made a list of them for our future customers:
● On your time!
Metal garage kits give you the freedom to install your structure whenever it is convenient for you to do so. Normally, you would schedule an installation time, and our team would show up and install your building for you. These building installations can take our team hours to days, depending on the size of the metal garage shed. Your normal schedule could end up upside down! Metal garage kits take that worry away. When to install your kit is your choice; the only thing you schedule with us is your delivery day.
● On your budget!
The best material for those who like to get the best quality is steel. Garage storage shed kits are the perfect way to stick to your budget and save some extra money. Since our installation team won't be installing your kit, you get a discount!
● For your skill level!
Not everyone is a master of do-it-yourself. At Metal Garage Central, our kits aren't made for masters. They are made for everyone! Whether you DIY all the time or you have never even thought about it, you will be able to install your new steel garage with ease.
● For your satisfaction!
It is so satisfying to accomplish something great! You can do just that by choosing a garage shed kit. With easy-to-follow instructions, you can have your building up in no time. Plus, think about how great the satisfaction you get every time you look at your garage shed will feel.
If you have decided that you need a steel garage shed kit, you need to know what your kit will include. Here is what you can expect to find in your kit:
• Roof paneling
• Wall paneling
• Supports and braces
• Framing for doors and windows
• Doors and windows
• Fastening devices
• Foundation anchors
• Gables and trim (if desired)
Don't Wait!
If you need a steel garage storage shed, you need Metal Garage Central. We are the premier provider of metal garage sheds. All of our products are made from the best quality materials and handled by an experienced team. Our friendly and knowledgeable building specialists are determined to help you through every step of the way. They are on call to answer your questions and make your metal garage shed dreams come true. Don't wait! Call us today at (980) 949-0615!