Investing in a metal building is a big deal, we get it! You have worked hard for your money, and you want to make sure that you are getting the best deal. Finding a reasonably priced metal building can seem like a challenge. But at Metal Garage Central, we make it easy for you! We offer the best metal building prices across the United States.
Factors that Affect Steel Building Prices
There is no set price for steel buildings because the cost fluctuates depending on several factors. Before deciding on your building, it's important to know what those different factors are that could increase your steel structure cost. Keep reading for a list of the key factors that impact steel building prices.
Style and Size – There are different style buildings you can choose from: shed, carport, garage, and more. Each metal building type has its own pricing, and so does the size. Of course, if you go larger, so will the price of your bill.
Customizations – One of the big benefits of going with a steel building is the customization options. You can completely customize your building from the colors, the windows, and even the framing thickness. While having the option to customize is a big bonus, it can also come with a big price if you don't keep up with the changes.
Manufacturer – Who you buy your building from can greatly reflect your price. You have to make sure you work with a manufacturer that cares about their customer's needs. At Metal Garage Central, we care, and we will work closely with you to help you make the right decisions for your needs and your budget.
Install Location – Your geographic location can also influence your building cost. Some areas require building certifications to meet local laws and regulations, depending on where you live. This can also be a factor in steel building prices.
Metal Building Prices in Southern States
These include metal building prices in the following states: Alabama, Arkansas, Georgia, Indiana, Iowa, Kansas, Louisiana, Mississippi, North Carolina, Oklahoma, South Carolina, Tennessee, Texas, Virginia, Washington D.C., and West Virginia.
Metal Building Prices Southern States (Updated)
Regular Roof
A-Frame Roof
All Vertical Style
12×21
$3900
12×21
$4000
12×21
$4850
12×26
$4390
12×26
$4490
12×26
$5540
12×31
$4850
12×31
$4950
12×31
$6250
12×36
$5210
12×36
$5310
12×36
$6780
12×41
NA
12×41
NA
12×41
$7710
18×21
$4280
18×21
$4380
18×21
$5430
18×26
$4770
18×26
$4870
18×26
$6220
18×31
$5330
18×31
$5430
18×31
$6830
18×36
$5690
18×36
$5890
18×36
$7460
18×41
NA
18×41
NA
18×41
$8390
Metal Building Prices in Northern States
These include metal building prices in the following states: Connecticut, Delaware, Illinois, Maine, Massachusetts, Michigan, New Hampshire, New Jersey, New York, Ohio, and Vermont.
Metal Building Prices Northern States (Updated)
Regular Roof
A-Frame Roof
All Vertical Style
12×21
$3900
12×21
$4000
12×21
$4850
12×26
$4390
12×26
$4490
12×26
$5540
12×31
$4850
12×31
$4950
12×31
$6250
12×36
$5210
12×36
$5310
12×36
$6780
12×41
NA
12×41
NA
12×41
$7710
18×21
$4280
18×21
$4380
18×21
$5430
18×26
$4770
18×26
$4870
18×26
$6220
18×31
$5330
18×31
$5430
18×31
$6830
18×36
$5690
18×36
$5890
18×36
$7460
18×41
NA
18×41
NA
18×41
$8390
Metal Building Prices in Florida
These include metal building prices for the state of Florida.
Metal Building Prices Florida (Updated)
Regular Roof
A-Frame Roof
All Vertical Style
12×21
$3776
12×21
$3876
12×21
$4676
12×26
$4265
12×26
$4365
12×26
$5341
12×31
$4766
12×31
$4866
12×31
$6016
12×36
$5225
12×36
$5325
12×36
$6651
12×41
NA
12×41
NA
12×41
$7296
18×21
$4366
18×21
$4466
18×21
$5466
18×26
$4905
18×26
$5005
18×26
$6181
18×31
$5306
18×31
$5506
18×31
$6756
18×36
$5765
18×36
$5965
18×36
$7391
18×41
NA
18×41
NA
18×41
$8136
Save Money with Metal Building Kits
Are you a do-it-yourself type of person? Then we have the ultimate project for you! We offer metal building kits that you can completely customize, pick-up, and install on your own. And the best part? You'll save a little money too. Our kits include every single thing that you need to install your metal building. Everything is pre-measured, pre-cut, and pre-drilled for easy installation. You will even have all the nuts and bolts you need with easy to follow instructions. So, put your building up when you want it instead of waiting for an install team to arrive.
Metal Building Types at Metal Garage Central
We offer a wide selection of metal buildings to choose from that are designed to fit your budget. At Metal Garage Central, we take pride in our affordable, durable, versatile, top of the line buildings! Here are the different types of prefab steel buildings that we have:
Metal Carports – A metal carport is a perfect solution if you're looking to protect your car from heavy rain and snow. Our steel carports are designed to fit one, two, or three vehicles. They are also perfect protection for your RV or boat. But that's not all, our metal carports can also be used for a wide variety of residential and commercial purposes.
Metal Barns – Our metal barns are perfect for your farming or agricultural needs. They can also be customized to fit any personal or commercial need you have. These aren't the traditional wooden barns, they are better! Our steel barns are built durable, strong, fire-resistant, and weatherproof.
Metal Garages – A metal garage is an enclosed structure that can be customized to any size or dimension. With a metal garage, you can keep your valuables safe during heavy snow and winds. And that's not all! Steel garages are built to be flexible. You can use your prefab metal garage for more than just cars. You can use it as a personal gym, turn it into a guest house, or make it into a workshop.
RV Covers – An RV is more than a vehicle, it's your home away from home. Give it the best possible protection when you aren't using it by buying a steel RV cover from Metal Garage Central. Our RV covers are fully customizable to fit any RV you have. You can even add a storage building to keep all your camping supplies close by.
Combo Utility Buildings – Utility buildings are the perfect solution if you're looking for coverage and storage. With a utility carport, you'll be able to provide protection for your car and have extra space to store lawn equipment, holiday decorations, and more! The covered area is also perfect for an outdoor entertainment area or a potting barn.
Commercial Metal Buildings – These buildings are best for retail, wholesale, office space, and commercial uses. These buildings are designed to be flexible with a variety of dimensions. Get higher ceilings and use the space for aircraft storage or make it a multifunctional area for offices and retail space.
Clear Span Buildings – These structures are more versatile for residential, commercial, or agricultural uses because of its open interior. The inside doesn't have columns or barriers, giving it an open space. These are commonly used to store large equipment and over-sized vehicles, but these buildings can fulfill whatever you need. They've also been used as a horse barn, a repair shop, and a retail store.
Workshop Buildings – Need a place to work on your projects and keep your tools secure when they aren't in use? A metal workshop building is a perfect solution.
Lean-To Buildings – Lean-tos can be attached to an existing structure or a new custom metal building. There are two different types of lean-tos, free-standing and attached. These structures allow for extra storage space and can be fully enclosed or left open.
And More!
Customization Options That Can Impact Prices
After you've decided what type of building you want, then it's time to choose your customizations. This is everything from the size of your building to the anchors that will keep it grounded. Keep in mind, the more customizing, the more money you will spend.
Size Dimensions – After you've chosen what type of building you want, you will need to pick the size, and this is where the price can quickly change. That's because when the size of the building goes up, so does the price. You can fully customize the width, length, and height of your building.
Roof Styles – There are three types of roof styles to choose from. A regular roof is the most economical choice, A-frame is a little more expensive, and the vertical roof is considered the premium choice. While the vertical roof will cost more money, it will also provide the best protection.
Doors & Windows – Choose how many doors and windows you want and where you want them placed. You can add multiple entries using our door options – garage-style, roll-up, and walk-in.
Steel Framing and Panels – You can choose between 12-gauge and 14-gauge steel framing and 26-gauge and 29-gauge galvanized steel for roof panels. The higher the number, the thinner the steel is, which also means the lower the cost. So, if you want more protection, you can get it, you'll just have to pay more.
Anchors – Keep your metal building secure with the right anchors. We use rebar, mobile home, concrete, and asphalt anchors.
Certifications – Certifications can add to the price of your steel building. It's not just more because of the documentation, but it's more because it will be built stronger to withstand the required snow, rain, and wind in your area. Speak to your local building authorities to see if you will need your building certified.
Gables and More – Add gables to the front and back of your metal building to give it a finished look. Add additional bows, trusses, etc. You can customize your building, just remember that customizing can rack up your prices.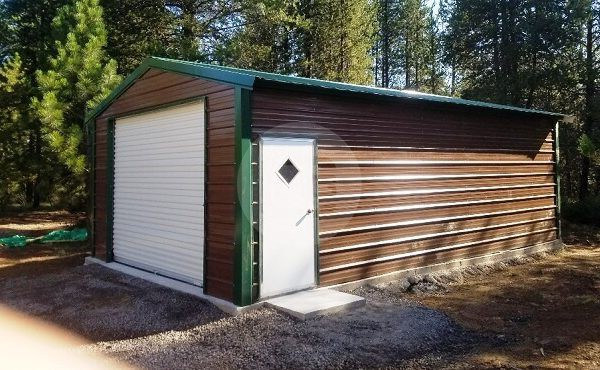 Everyday Uses for Metal Buildings
Our metal buildings aren't just for cars. If you have a need, we can find a metal building to work for it. Whether it's a living space, something for your business, or a place for your animals, the possibilities are endless with a steel structure. Below are some of the unique ways our buildings have been used. Let us design the building of your dreams!
Barndominium – Have you heard of a barndominium? If not, they are all the rage! People are taking our sturdy steel barn structures and turning them into a gorgeous, spacious, low-maintenance home!
Retail Store – Looking for a place to lease for your business? Stop looking and buy a metal building! Use one of our garages, barns, or commercial buildings as a perfect retail spot.
Sports Field Buildings – A metal building is perfect for a dugout, a concession stand, or even an announcer's booth.
Palace For Your Pets – Turn a metal building into a spot for your pets. Use a building as a chicken coop, a dog kennel, or even a birdhouse.
Outdoor Servicing Space – Want to entertain in your backyard? Offer your guests a drink under your covered patio area.
Why You Should Choose Metal Garage Central?
Our drive for success and our compassion for our customers is what keeps Metal Garage Central at the top. No matter your needs or budget, we are here to help you find your dream building at a price you can afford. We aren't in the business just to make money, we are here to assist you in every way we can. Our prefab metal building prices are hard to beat, and so is our customer service. Don't wait, give us a call today at 980-321-9898 , and let us find your perfect building solution.