Metal buildings are a fantastic addition to anyone's property, but do you know what parts make up a metal building? At Metal Garage Central, we want you to know as much about your building as we do! That's why we've come up with this guide to help you learn everything about the different metal building components that help make your building whole.
The First Part: Primary Framing
The first metal building components we will talk about are the primary framing elements. In simpler terms, these are your rafters and columns. The number of rafters and columns you receive will depend on the type of structure you have. A good rule of thumb is that the larger the building is, the more rafters and columns you will need.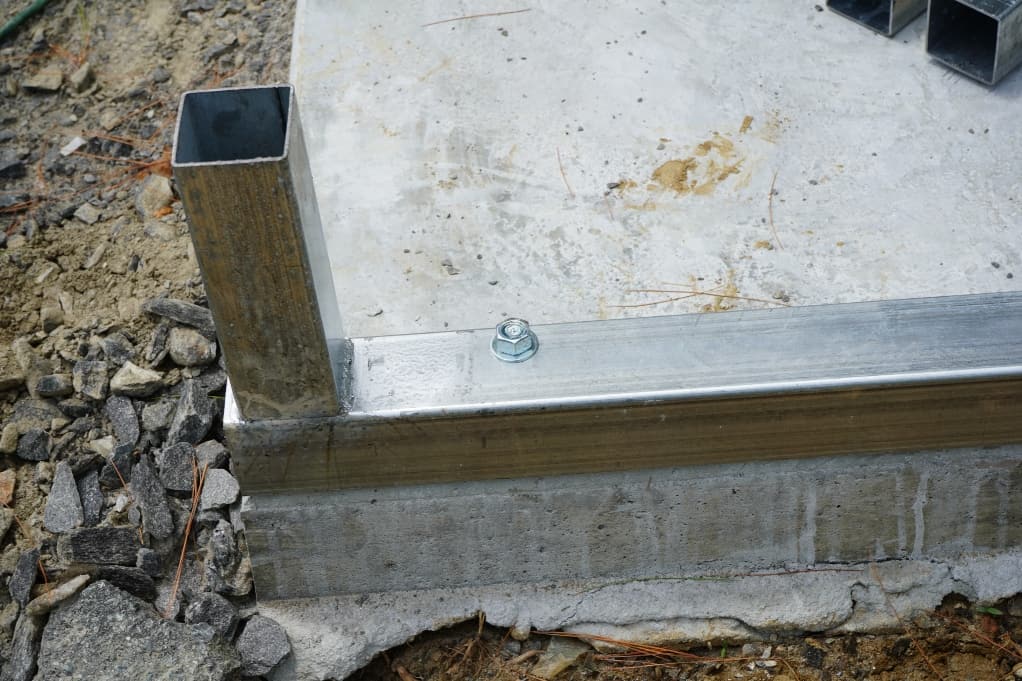 The only exception to this rule is something called a clear span building. A clear span building has no internal support posts; that's because all of its supporting columns are on the perimeter of the structure. This allows you to have a completely open space which is a great option for many of our customers. We can make any size or style of building a clear span building. All you have to do is let us know so that we can use the right metal building materials. In this case, a large clear span building would have less support posts than a regular building, so that is why it is an exception to the rule.
The Second Part: Secondary Framing
Your building's secondary framing will be its extra supports and braces. These are your purlins, girts, and eave struts. These aren't common terms, so we'll give you some definitions so you can better understand what they mean.
A purlin is a rolled steel rod that is stretched from rafter to rafter. It is a metal roof component, as it adds additional support to your building's roof.
A girt is a rolled steel rod that runs from column to column. It adds support to your building's walls and is what the wall paneling attaches to.
Eave struts are placed at the meeting point of the roof and exterior wall. It helps keep your building securely fashioned together.
Additional Support
Some buildings require extra support and bracing. This is especially true if you live in an area that experiences a lot of severe weather. This additional support can be added by using an "X" bracing on the walls. These are rods or cables that run diagonally from the top corner to the bottom corner. They are called "X" braces because of the way they are shaped, which is exactly like an X.
The Third Part: Paneling
The roof and wall panels are what really bring your building to life. They are attached to the purlins and girts and will be the barrier between you and your stuff and the harmful effects of Mother Nature.
The roof and wall panels are where the bulk of customization starts. These steel sheets are galvanized, but they can also be coated in different paints for a variety of colors and patterns. These panels can be everything from sky blue and bright red, to shingle-patterned.
The Fourth Part: Doors, Windows, & Framing
Doors and windows are a necessity when you want to make your new metal building usable and livable. While these are not metal building structural components, they are important building components. You need them for light, ventilation, and entering and exiting the structure. In order for your doors and windows to function properly, and for the integrity of your building to be maintained, you need framing for your doors and windows. This framing prevents moisture from leaking into the building; it also helps everything stay in the right place.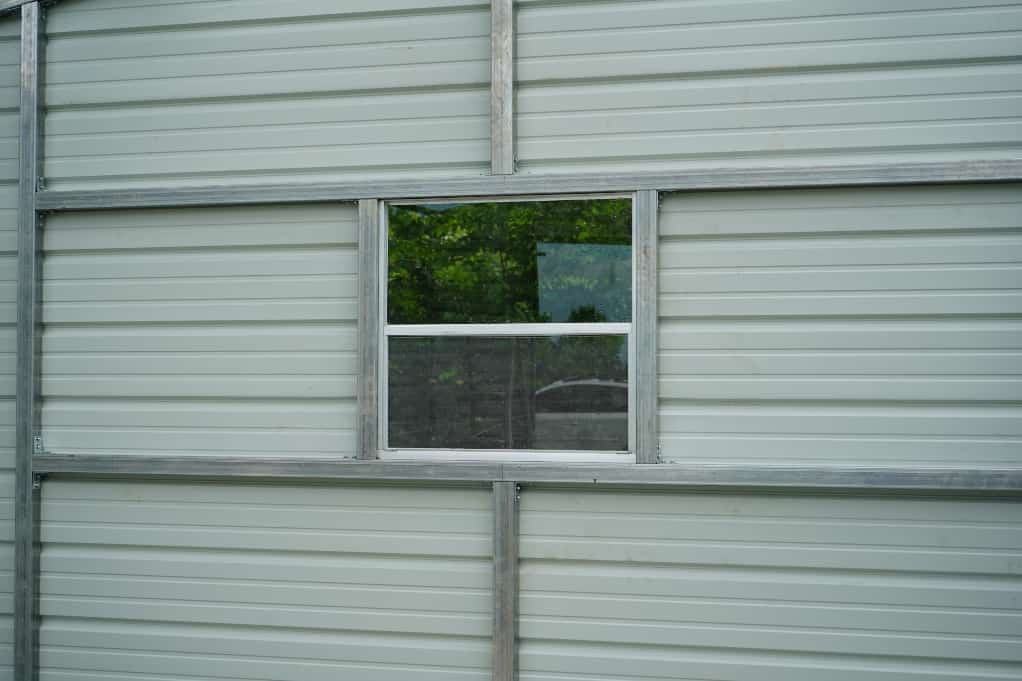 Putting it Together with Fasteners
You do not have to worry about finding the right nuts and bolts for your structure. They are a key metal building component and come standard in our kits. All of the holes for your screws and bolts are pre-drilled too, so the process is that much simpler. All you have to do is put it together!
In addition to traditional screws and bolts, you may receive self-drilling fasteners. These screws and bolts have been combined with a drill bit and will tap and drill their own holes.
Sealing the Deal with Ridge Caps & Base Angles
The ridge cap and the base angle are used to fully secure your metal building. They are crucial building components. The ridge cap is placed on the top seam of the roof—on its peak—to seal out water. The base angle, on the other hand, wraps around the bottom of the structure, securing and sealing it to the foundation. This helps keep water and pests out.
Finishing Up with Drawings and Plans
The last three things you will receive in your kit are the engineering drawings, the anchor bolt plan, and the instructions. You will receive one copy of the last two, and multiple copies of the engineering drawings.
The engineering drawings are essentially the blueprints of your structure. They are what you use to get building permits, as well as to prove that your building is certified.
The anchor bolt plan is a detailed map and instructions for installing your building anchors. Each building needs its anchors installed in a way that is unique to it for maximum security. Following this plan will ensure that your building is as secure as it can possibly be.
What Makes a Metal Building So Great?
Metal buildings are the best structure you can get, no matter what you plan to use them for. They are versatile, durable, pest-resistant, fire-resistant, and mold- and mildew- resistant. These buildings will keep you and your stuff safe, no matter what comes your way.
1. Versatile
There is no one purpose for a metal building. They make great garages and carports, but they can also be used for more creative things like, mancaves and art studios. We also suggest using our metal buildings as home gyms, home theaters, and guest houses. The possibilities are truly endless.
2. Durable
Heavy precipitation and high winds can do some significant damage. But not with our metal buildings. They are strong and rugged. Their steel framing and vertical roof can stand up to anything Mother Nature throws their way. You will never have to worry about wind, rain, snow, or harsh UV rays damaging your belongings.
3. Pest-resistant
Creepy critters can't chew through steel. It is too strong. This means that anything you store in your metal building will be safe from mice, termites, and whatever else might try to creep in. You can rest assured knowing that your stuff is safe and sound. Steel keeps the critters out.
4. Fire-resistant
Fire is one of the most devastating things that can happen to someone. In a matter of minutes, you can lose everything. Steel buildings protect you from that. Steel does not catch fire and will keep external fires from spreading in and internal fires from spreading out. Choosing steel means choosing security.
5. Mold- & mildew- resistant
Mold and mildew flourish in damp environments. You might find that in a wooden building, but you will never find dampness in a metal one. Steel buildings keep moisture from rain out. Nothing can seep through it. This means that you won't have to worry about the harmful effects of mold and mildew.
The Best Metal Buildings are at Metal Garage Central
When you buy a metal building, you should buy it from Metal Garage Central. Not only are all the components of our structures high quality, we are high quality too. Our staff of building specialists is friendly, knowledgeable, and experienced. If you have a question, they have the answer. They are there to walk you through every step of the process, all you have to do is call at (980) 949-0615. Don't wait any longer. Get a high-quality metal building from Metal Garage Central today!