Steel Garages With Living Quarters
Metal garages with living quarters are the most popular option for anyone looking to consolidate their home and working spaces.
Are you looking to bring home and work together? If so, you need a metal garage with living quarters. These buildings are the perfect way to those two worlds together since they feature dedicated spaces for work and relaxation. These separations make steel garages with living quarters the most efficient option on the market; you'll save money, time, and space by putting everything you need together. Nothing fits our fast-paced modern world better than this!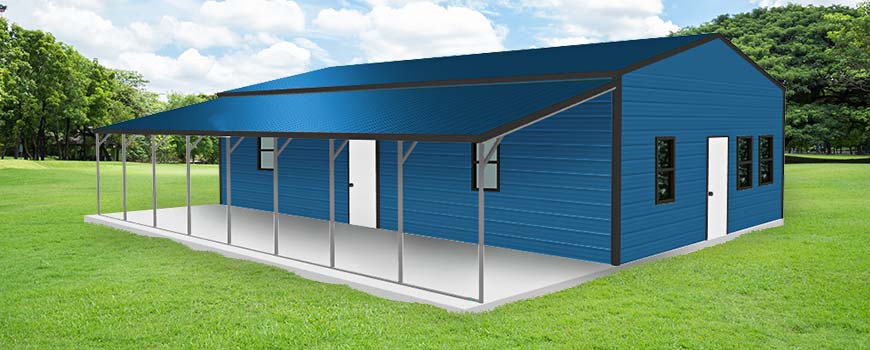 Why Choose Steel?
Metal garages with living quarters are some of the most efficient building options in the market today, but the benefits don't stop there! These building types are safe, low-maintenance, affordable, easy to install, environmentally friendly, customizable, expandable, and energy-efficient. What more could you want?
1. Steel is Low Maintenance
You will never find a more maintenance-free structure than a steel building. Steel structures withstand strong storms and the damage they can create. They're impenetrable to creepy critters, and they don't harbor moisture, which prevents the growth of mold and mildew. These factors mean you'll never have to worry about these common issues found in wooden structures.
2. Steel is Safe & Secure
Everything that makes our steel garages with living quarters low maintenance also makes them the safest and most secure structures available. With the ability to match any wind and snow load certification requirement in the nation, Metal Garage Central keeps you and your family safe no matter what. You will never find a more durable building.
3. Steel Saves You Money
Steel garages are some of the most affordable building types available in the market today. Without having to worry about frequent and expensive repairs that are common with wooden structures, your savings will build up tremendously over the years. You won't find buildings of higher quality than steel, and you won't find anything more affordable for this level of quality, either.
4. Steel Makes Installation Easy
Metal garages are easy to install because they come prefabricated. This means that your building could be up and running within a week. This is vastly different than the time it takes to build and install a wooden building. Not only is the installation faster, but the installation can be handled by you, too. We offer premium metal garage kits that are easy as can be to put together without having an installation team!
5. Steel is Environment-Friendly
Steel is one of the most environmentally friendly materials available since it is forged from carbon and iron. These materials are easy to harvest, and steel is completely recyclable! In fact, nearly 85% of the steel we use in our metal garages here at Metal Garage Central is recycled steel.
6. Steel is Customizable
If you want a metal building that is entirely your own, you want a steel garage with living quarters from Metal Garage Central. We can create a building that's personalized to your specific needs. You can customize the dimensions, the color, the gauge, the foundation type, and any other additions you want.
7. Steel Makes Expanding Easy
One of the biggest added benefits to having a steel garage with living quarters is that they are easily expandable. This gives you the flexibility to be prepared and plan for the future! Adding a few bedrooms? That's easy! Need more garage space? Let's do it! You won't find this versatility with wooden structures!
8. Steel is Energy-efficient
Ask any homebuilder, and they'll tell you the same: if you're going to live in a building, it needs to be energy efficient. And steel has that in spades! Steel garages are one of the most energy-efficient building types on the market. That's because steel buildings have more space between the panels, giving you more room for insulation. This insulation keeps condensation out of your living spaces and keeps the temperature regulated, keeping you cool in the summer and warm in the winter.
Do It Yourself with a Metal Garage Kit
If you're looking for a more hands-on approach to the traditional metal garage, you'll want to take a look at one of our premium metal garage kits. These kits come with everything you need to get your new metal garage building installed.
Here's what you can expect to find in your kit:
• Roof paneling
• Wall paneling
• Structural Framing
• Framing for windows and doors
• Anchors
• Any additional customization features
• Braces and support posts
• Screws
• Engineering drawings
These kits are a great option for anyone looking to save money, but caution that buildings with living quarters are held to higher zoning standards than simple garages, and our kits do not come with a comprehensive instruction manual.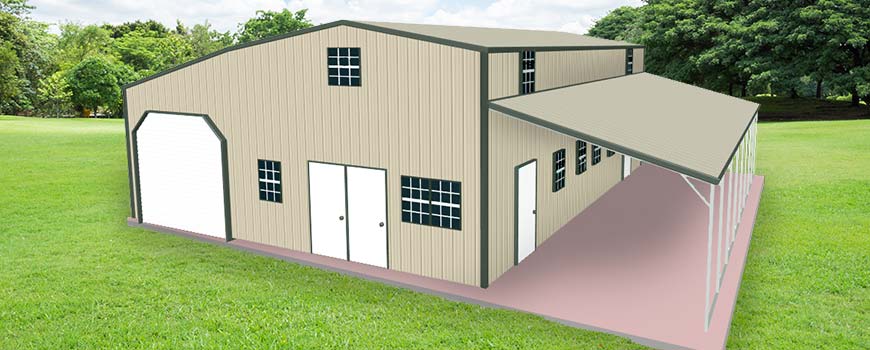 Here's what to do Before You Buy Your New Metal Garage with Living Quarters
Before you buy your new steel building with living quarters, there are several things you need to consider. This can seem overwhelming, but we promise it isn't! To streamline the process, we compiled a list of all the things you will want to consider before buying your new metal garage building.
1- Get Your Site Prepared
The first step in getting a new metal building with living quarters is to get the land it will be installed on. Make sure you consider property taxes and classifications when making your purchase. However, there are more land considerations after you make the purchase.
• You will need to clear the area that you intend to place the metal garage on. This includes clearing out all vegetation and debris.
• The next thing is to ensure that the ground is level. Unlevel ground compromises the quality and durability of our metal buildings.
• You will need to get your utility provider to mark all existing utility lines at your building site. If there are no existing lines and you want utilities, like water and electricity, this is the time to get them installed.
• Finally, you need to lay your foundation. Ensure that this is done correctly, as it sets the stage for a properly functioning durable metal garage.
2- Consider the Cost
The cost of a finished metal garage with living quarters has several factors. First, you'll need to determine the cost of the metal building itself. There are several aspects that affect this like foundation type, door and window types, the gauge of the paneling and framing, and even additional features. Your location will also affect the price of your metal building.
However, you'll also need to consider the cost to finish out your metal garage with living quarters. You need to budget for countertops, appliances, floors, furniture, and everything else it takes to make a home.
3- Get Your Permits
Permits are a critically important part of setting up your new metal garage with living quarters. Getting the proper permits is the best way to ensure that your building meets all of the codes in your area. If your building is not up to code, you may be subject to fines and could even be forced to have the building completely removed.
The best way to ensure that your building meets every standard is to work directly with your local zoning commission. Talk with them about what standards garages and residential buildings are required to meet, and then design your structure with that in mind. To get your permits, the zoning commission will have to approve your engineering drawings. We suggest getting started on this process as soon as possible, as getting permits can take up to three months in some areas.
4- Know Your Warranties
It's a good idea to review what warranties are being offered for your building before you buy it. This helps you know what to expect now and in the future.
Here at Metal Garage Central, we have three warranties on all our buildings.
• 1 Year Workmanship Warranty
Our goal is to treat you like family, and that's why we offer this warranty. If you notice that your building leaks, has gaps in the paneling, or any other installation-based flaw in the first year, let us know! We want to fix it and give you the building of your dreams. It is important to note that this warranty, as well as all others, only covers unaltered buildings.
• 10 Year Paint Warranty
The paint we use on all our metal garage buildings is enamel-based. This paint will not chip or peel. If, for some reason, it does within the first ten years you own your garage, this warranty applies. This warranty does not apply to fading, as all paint naturally fades.
• 20 Year Rust-Through Warranty
We want you to know that we believe our metal buildings really are the best available on the market. As such, we assure that no part of your building will rust completely through for 20 years. If it does, we will take care of it for you.
5- What About Financing?
Metal Garage Central offers two fantastic financing programs to help you figure out how to fit your new garage into your budget!
The first plan we offer is our Rent-to-Own program. This is a popular option because there are no credit checks, and you will receive your approval the same day. Most people find out if they've been approved in a matter of minutes!
The other option is our Financing program. We work with three wonderful financial institutions that provide excellent plans to get you the garage of your dreams. If you need a loan, this is the way for you to go.
Make Your Garage into Home with Metal Home Customizations
Metal garages that have living quarters are much more than a regular garage, and there are lots of ways you can customize your building to make it the perfect home or working space! While we do not offer all of the finishing services ourselves, our buildings are fully customizable.
1. Roof Styles
At Metal Garage Central, we offer the best metal building roofs bar none. Our roofs are made of 29- or 26-gauge steel paneling and sports ridges that run from its top to its bottom. These vertical ridges give you the greatest protection against severe weather. With these ridges, debris and all precipitation will flow off the edges of the roof with ease.
2. Color Options
We have 14 standard color options, and 3 premium color options for you to choose from. The standard color options are:
• Barn Red
• Black
• Brown
• Burgundy
• Charcoal
• Clay
• Galvalume
• Green
• Beige
• Pewter Gray
• Sandstone
• Late Blue
• Tan
• White
The premium color options are:
• Burnished Slate
• Copper
• Crimson Red
 
3. Steel Framings
All our metal garage buildings are durable and will withstand whatever mother nature throws their way. With that noted, there are two different gauges of metal framing to choose from. 14-gauge steel is the standard thickness for most of our structures. However, we also offer thicker 12-gauge steel for larger buildings, buildings in disaster-prone areas, and commercial facilities.
4. Certifications
Metal Garage Central builds all its garages to meet certain snow and wind load ratings. We can match the highest load requirements for both; our garages and metal garage kits can be certified to withstand 140 mph winds and around 30 lbs PSF of snow. Typically, however, our steel garages are built to meet the load requirements in your specific area.
5. Wainscoting
Wainscoting is a great way to add character to your building. It is an eye-catching feature that makes your building shine. Wainscoting gives you the ability to choose two different colors for your paneling. Your primary color will cover the upper walls, while the wainscoting covers the lower section of the wall panels.
6. Full or partial loft
Lofts are a great way to add extra square footage to your metal building with living quarters. A full loft could double your square footage! Lofts are great places to plan living spaces, home offices, or any other finished space. This frees up the rest of the structure for more traditional purposes, like storage. But it's versatile! You could also use the loft area for storage and the rest of the structure for living quarters instead!
7. Cupolas
Adding a cupola is a great way to add old-world charm and functionality to your new metal garage with living quarters. This cupola, or dome-like structure, adds extra ventilation to your building. This can be ideal if you plan to store equipment or any materials that give off harmful fumes.
8. Lean-tos
A lean-to is a necessity if you like to work outside. The lean-to offers you shade in the summer and protects you from rain and snow in the colder seasons. These are popular additions because of how helpful they are. They can even be used for additional storage space, parking, or as a cover for a porch.
9. Electrical Package
Metal Garage Central recommends that you contact a licensed electrician if you intend to finish out your metal building. All finished building spaces require electricity nowadays. Contact your electrical provider ahead of time to determine what steps you need to take to get your building ready for electricity.
10. Decorative Trim
Just like your metal paneling for the walls and the roof, your trim can be any of the colors we offer. Choosing a contrasting color can give your building charm and character. This is a great way to make your building feel more like a home and less like a metal garage.
11. Anchors
One of the most customizable parts of a metal garage is the foundation type. We don't lay foundations ourselves, but we can provide metal building anchors for all possible foundation types. We have two different anchors available for ground foundations. These anchors are mobile home anchors, with one better suited for rocky ground than the other. We also have anchors for gravel, asphalt, and concrete. Since you plan to live and work in this metal garage building, we suggest choosing a concrete foundation as it offers the most longevity for finished living spaces.
How You Can Use Your Metal Garage with Living Quarters
A metal garage with living quarters might sound like it might only work as a garage or a home, but these steel garages can be used for a wide variety of purposes. They are ideal for businesses, homeowners, and everywhere in between.
1. Make it a Workshop!
One great way to utilize your steel garage is as a workshop. It could function amazingly as a carpentry studio, auto repair shop, a barn, or anything else you can think up! And a metal garage with living quarters would be an upgrade over a standard garage because the finished space gives you the ability to work without worrying about the time of day or the weather outside!
2. Use it as an Apartment!
Are you looking to make some extra money? If so, you could use your metal garage with living quarters as an apartment. The finished living space could be rented out, while you could use the remaining space for storage or anything else you need. Thanks to the long-term affordability of steel, this is a great way to make extra money without high maintenance costs.
3. How About a Guest House?
If you have lots of family members that like to visit, or are looking to care for an older relative, you can use your steel garage with living quarters as a guest house. With a finished living space, it's the most cost-effective way to give your loved ones a nice place to stay or live.
4. Why Not Make it a Music or Art Studio?
Like their workshop possibilities, steel garages with living quarters can also be used as music or art studios.  Once finished out, it gives you the perfect place to open your mind and let the creative juices flow. It's always nice to have a dedicated space for creativity, and this building gives you precisely that.
5. It Can be a Mancave or She-shed!
Sometimes we need a home away from home to truly relax and let loose. Have you considered getting a separate building for that? You should! Metal garages with living quarters make the best relaxation spaces. Set them up with big TVs and video games to create the perfect mancave or make your she-shed!
6. Turn it into a Home Brewery!
If you want to make your home truly unique, why not turn your metal garage with living quarters into a home brewery? Your friends will all want to hang out at your place, and you'll never have to worry about last call again! Once you get your equipment set up, you'll be a home beer connoisseur in no time!
Planning Your Budget for a Metal Garage with Living Quarters
We know that a metal garage building is an investment most people will need to budget for. That's why one of the first questions people ask us is, "how much will this cost?" And the answer is a simple one: it depends. The price of your metal garage is determined by the size of your structure, the certifications it has, the gauge of the paneling, your location, the current steel market, and any other customization features you choose to add. We can promise you that you won't find any better, more competitive prices for such high-quality metal buildings than at Metal Garage Central.
At Metal Garage Central, we offer some of the most competitive prices in this industry. However, you'll need to budget for more than just the metal structure. You also need to budget for all the finishing materials, such as countertops, lighting, and flooring. All of these factors will affect your new home's final price.
We Provide Service an Entire Nation Can Depend On
No matter where you are in the United States, Metal Garage Central is the best place to get a new steel garage with living quarters. We serve virtually all the continental United States and work with high-quality manufacturers in every area! Because of these partnerships, we can get your new metal garage to you quickly and efficiently.
Not only that, but we also have the best customer service professionals in the industry. Our metal buildings specialists are experts in their field! If you have a question, they have an answer. It's their job to guide you through the entire process, from planning to installation. We promise you that you won't find better customer service anywhere. Choosing Metal Garage Central means choosing the best in every way.
Get a Real-Life Preview with Our 3D Metal Garage Estimator
Before you buy your new metal garage with living quarters, you want to know that it will look the way you've envisioned. We have a way to show you precisely how your new metal garage building will look. You won't find that convenience with a stick-built structure!
Our 3D Metal Building Estimator allows you to fully design your metal garage online. You'll be able to pick the size, the enclosure level, the color, the placement of the doors and windows, and add on any additional customization features you'd like. Once you've done that, you'll get to see a 3D digital model of your new building, as well as a real-time price estimate. This is one of the best ways to ensure that you get the steel garage of your dreams. Go ahead, try it out!
Get Paradise on Earth with Metal Garage Central
A metal garage with living quarters can make your life so much easier, but you want to work with a provider who can make that experience even better. That's what we offer when you work with Metal Garage Central. Our products are of the highest quality on the market because they come directly from the nation's top manufacturers. But it's more than just the quality of our garages that make them great; our renowned building specialists are the leading industry experts when it comes to all things metal buildings. If you have a question about the size, color, material, or anything in between, they have the solution. Call us today at (980) 949-0615 and let us help you find your dream steel garage and living quarters today!
Frequently Asked Questions
• How do I know my zoning requirements?
Knowing your zoning requirements is a critical first step to getting a new steel garage with living quarters. However, zoning requirements are different in every area. The best way to determine what your specific zoning requirements are is to contact your local zoning commission.
• When Can I Expect my Building to be Finished?
This really depends on the complexity of your metal building. Our simpler buildings can be produced by our manufactures in roughly a month, but the time can be longer for larger buildings. Talk with your building specialist to get a good estimate for how long your specific building will take.
• I Just Got my Building. Now What?
After your building materials arrive, the next step is to have your building installed. You can have this done by our excellent installation team or hire outside contractors to complete the process. And for living quarters, you will need to have contractors come in to finish out the structure once setup is complete.
• What Can I do with my Metal Garage with Living Quarters?
If you dream it, you really can do it. Metal garages with living quarters can be turned into guest houses, hunting cabins, camping barracks, mancaves, and everything else imaginable. It all depends on how you finish out your metal garage.