Showing Results
1–20 of 3
Top Selling Regular Roof Carports
Are you looking for quality protection for your vehicles with a price tag that won't break the bank? Then you've come to the right place! At Metal Garage Central, we have regular roof carports that provide superior protection and storage at an affordable price.
Our regular roof carports aren't just for storing your vehicle, they have so many other useful purposes! These steel structures can be fully customized to fit your exact needs. You can even add storage space to convert your regular carport into a utility carport for more storage possibilities. Keep reading to find out why more people from around the country are turning to these carports for storage and beyond.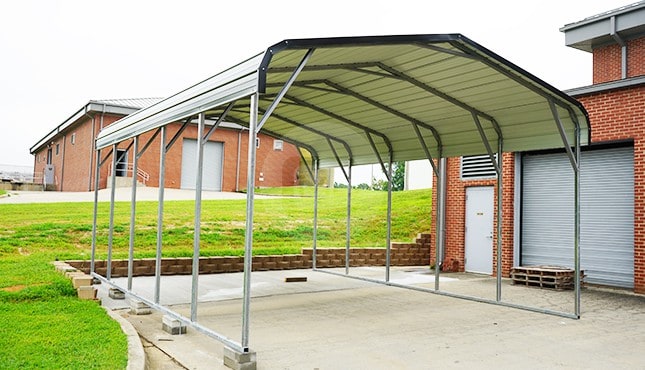 What is a Regular Roof Carport?
Regular roof carports look different from other metal carports because of its unique roof style. The roof is more rounded and closely resembles the roof of a barn. The curved roof style makes the assembling process a breeze. The horizontal panels make installation faster and easier than other roof styles. Because of the horizontally aligned panels, regular roof carports work best in areas that don't typically experience extreme weather conditions. So, this carport is a great option if you're looking for reliable protection from UV exposure, occasional rain, and light snow at an affordable price.
Regular roof carports are versatile and built for your exact needs. These carports can be designed to hold one, two, or even three vehicles at a time. But that's not all! You can customize your regular roof carport to cover your RV, boat, trailer, and more!
How Can You Use Your Regular Roof Carport?
It's no surprise that a regular roof carport is great for covering your vehicles, but there are so many other ways you can take advantage of these versatile structures. Our carports aren't just good for protecting cars, you can protect other outdoor items like your lawn equipment, your grill, patio furniture, and more. Here are some other creative ways our regular roof carports can be used:
Picnic area – Need a place to host birthday parties? Does your church need an outdoor fellowship area for gatherings? Put a grill and some picnic tables under your carport and use it as a picnic area. You'll instantly have a covered area where you can entertain no matter what the weather is doing.
Combo Utility Carport – Easily cover everything you need, like your lawn equipment or your vehicles, with a regular metal carport. Then, customize your carport to add a storage area too. So, you won't just be able to protect your vehicle, you'll also have a secure spot to store other things like holiday decorations, yard sale items, or gardening tools.
Poolside Cabana – Need a nice shady spot for everyone to take a break from the sun and relax while swimming in the pool? Use a regular roof carport as a poolside cabana. Our carports are small enough that it won't overwhelm your backyard, but it is still large enough for lounge chairs and a table.
Create an Outdoor Theater – Move the family movie night outdoors. With wireless technology and portable projectors, it's easy to set up an outdoor theater right in your own backyard. Add comfy chairs, bring out some snacks, and create the perfect spot for family and friends to hang out.
Design a Play Area – Like having kids around or have kids of your own? Use a regular roof carport as a play space. Put playground equipment under the carport to provide a shaded spot to play no matter what the weather is. And you know the best part about the equipment being under the carport? You won't have to worry about scrubbing it down if birds mess it up, you won't have to wipe down slides if it rains, and the sun won't get the equipment too hot to sit on because it will be protected under a roof.
Customize Your Regular Roof Carport at Metal Garage Central
We know that you are looking for a steel carport because you have certain needs. So, you don't need just any carport, you need the perfect carport. At Metal Garage Central, you can customize your regular carport to fit exactly what you need. You can select your building measurements, choose your paneling options, pick out your trim, select the perfect colors, and more!
Size and Roof Style – How many vehicles do you need to be covered? We can design your regular roof carport to accommodate up to three vehicles. Need it to be longer or higher to store your motorhome or trailer? We can make that work too! And if you have any other special requests, we will do our best to work with you!
And we don't just offer regular roofs for your carport. We also have an A-frame or boxed-eave design that resembles a traditional house roof with a stronger frame. Or, if you need more protection, we have a vertical roof carport that comes in an A-frame design with additional reinforcements, and vertical roof panels.
Anchors – We have anchors that will work with almost every type of foundation, including plain level ground. We use rebar, mobile home, concrete, and asphalt anchors, depending on what surface you're putting your metal carport on.
Gables and Trim – Add decorative gables to the front, back, or both. You can also choose to add decorative J-trim around the edges of your panels for that polished look.
Choose Your Gauges and Panels – 14-guage is an industry-standard that is used for carports, but if you want to go thicker, you can. We offer a 12-guage option for an even sturdier building. The same goes for your panel options. You can choose from a 29-guage or a thicker 26-gauge.
Certifications – If you need your metal carport certified to meet local building regulations and specifications, we can do that too!
Colors – Pick the perfect colors to compliment your house or other buildings on your property. We offer several different colors that are all designed to withstand weathering better than paint on traditional wood garages.
How Much Does a Regular Roof Carport Cost?
We can help you design the exact regular metal carport you need for a price you can afford. How? It's because we work directly with the manufacturers themselves to sell our buildings for less. A standard regular carport usually starts in the $1,195 range, but your individual price will depend on a few factors. Your building's size, the customization options you go with, and the specific location of where your building will be installed are a few factors that can change your price. But here's another way you can save money by going with Metal Garage Central – we will deliver and install your carport for no additional charge!
At Metal Garage Central, We Offer Financing Options Too!
Are you on the fence about locking down your regular style metal carport? We know that a metal building is a big investment, that's why we have two financing options for you to choose from. We want to make sure there is nothing standing in the way of the building of your dreams.
Rent-To-Own – With our flexible rent-to-own (RTO) program, you can get your ideal building for a flexible monthly payment. There's no credit check needed, your monthly payment will be suited to fit your financial situation, and you can payoff anytime without any penalties. And the best part? You get approved the same day you apply. So, there's no waiting around to see if you can get your ideal metal carport.
Metal Building Financing – At Metal Garage Central, we also offer easy, hassle-free financing options. We work with a number of financing networks to offer you flexible, stress-free payment plans. With our financing option, there are no hidden fees, no payoff penalties, and quick approvals.
Why You Should Choose a Regular Roof Carport?
A metal carport is one of the wisest decisions you can make. You can't go wrong with durable steel that is made to stand the test of time. And not only will a regular carport protect your ride, but it will provide many other important uses. There are so many benefits to buying a carport from Metal Garage Central, including:
Save Money – Save money by going with durable steel. Not only is it the most durable, but it is also the most economical choice compared to a wooden building. You will also save money in the long run when it comes to car repairs because a steel carport will protect your vehicle from hail and sun damage.
Versatile – The uses for our regular roof carports are endless. While they do a great job of protecting your vehicles, they can also provide so many other uses. Use the space for a picnic shelter, an entertainment spot, or a covered area to do maintenance on your car or motorcycle. Plus, our metal buildings are easy to expand down the road if needed.
Low Maintenance – Don't worry about rotting wood or termite damage. Metal carports are basically maintenance-free. You may want to hose it down or pressure wash from time to time, but that's all the maintenance you'll need to do.
Provide Extra Storage Space – While prefab metal carports are great for your car storage, they are also great for other storage reasons. You'll be amazed at how many things you can drag under your carport to keep it protected from the rain and snow.
Enhance the Look of Your Property – Add value to your home by adding a regular roof carport. Not only will it increase the value, but it will look great, too!
Choose Metal Garage Central for the Best Regular Roof Carports
At Metal Garage Central, we are here to get you a quality metal carport to meet all your needs. We can get you the best building, the best price, and the best lead time! If you have a carport in mind, we will work hard to make that exact carport become a reality. Our expert building specialists are here to help. Don't wait, start designing your carport today with Metal Garage Central! Contact us at 980-321-9898.
Metal Building Installation Process
How to Order at Metal Garage Central It's Simple & Fast






You're Done
Get your building installed by the expert crew
Happy Installation!!