Metal Carports and Snow
If you've spent the better part of your morning scraping ice off your windshield or shoveling a snow drift around your vehicle, you're not alone! The winter months can be particularly troublesome for residents in some parts of the US.
For this reason alone, many choose to invest in a metal carport. While these carports might not solve all your winter problems, they prevent winter precipitation from affecting your cars, trucks, and SUVs. However, in some regions, winter snow accumulation can become too much for even a metal building to handle. Therefore, it's essential to be aware of snow loads and how they affect your metal carport or metal building.
Below, we'll walk you through some critical information regarding snow loads, snow ratings, and what to look for to maximize your protection and buying power when purchasing your new structure.
What Is Snow Load?
Water is heavy, no matter how you cut it. And despite snowflakes seeming light and fluffy, it's still water! When snow accumulates along rooftops, those light flakes quickly become an enormous weight that the structure must support.
Now, in most cases, this is no issue for a certified metal carport or steel structure. They're designed to handle enormous loads without losing integrity, after all. But every structure has its limits. If weather conditions allow snow to form above the limitations the structure was designed to hold, a roof can fail or collapse entirely.
Calculating Snow Loads for Carports
Now that you're more familiar with the concept of snow loads, your next question will undoubtedly be, 'how do I calculate my roof's snow load?' As we've mentioned, even the best roofing systems can fail when exposed to enough weight. But determining the snow load is a bit tricky. So here's what you'll need to know about calculating how much your building can handle.
1. Determine the Ground Snow Load
The ground snow load for a structure measures the amount of weight pressing on the lateral sides of the building. This pressure might not be a direct measurement of the weight on a roof, but it can be used to estimate how much snow may be on your roof.
2. Calculate the Uniform Snow Load on a Roof
In this scenario, you'll have to gauge your snow load using the amount of snow on both your roof and the ground. You can estimate that the snow load of a structure's roof will be roughly between 50% and 90% of that of the ground snow load.
3. Understanding Unbalanced Snow Loads
When roofs fail, more often than not, it occurs due to unbalanced snow loads. As its name indicates, unbalanced snow loads can occur when wind or heat permits snow to melt or gather in certain parts of a roof and not others, resulting in an unstable amount of weight in a small area. According to the American Society of Civil Engineers, 80% of all roof collapses occur because of this occurrence.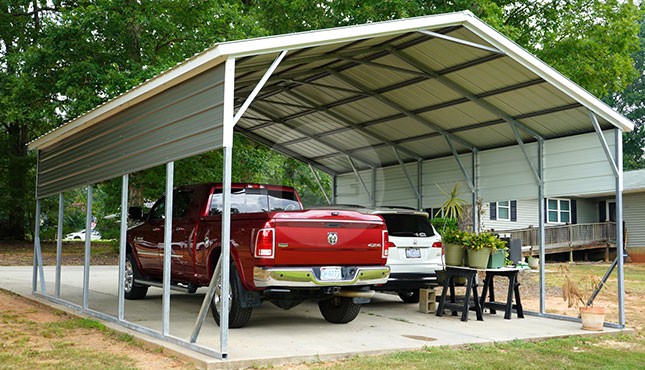 Factors That Impact the Wind and Snow Rating on Your Metal Carport
The wind and snow rating of a building refers to a structure's ability to withstand those forces. And two of the most common issues steel carports and steel buildings face come from wind and snow. When purchasing a building, there are certain factors you'll want to consider that may affect its wind and snow rating.
1. Roof Style
While all roofing systems are built for strength, some are better than others at handling high winds and heavy snow loads. In particular, vertical roofing systems excel at this task, utilizing a clever design that allows heavy snow to slide harmlessly away from the roof of your building. Therefore, choosing a roofing style that works for your climate is important.
2. Anchor System
The anchors are the components that directly connect your metal carport to the ground. And though these anchors are used based on the foundation you use, some are stronger than others. For example, you can trust a concrete foundation with bolt anchors to withstand high winds better than one using soil foundations and auger anchors.
3. Steel Gauges
Another critical factor in determining a building's ability to handle the weather is the thickness of its paneling and framing. In most residential applications, steel buildings use 14-gauge frames and 29-gauge paneling. But if you live in an area that regularly sees high winds and violent weather, upgrading to thicker 12-gauge framing and 26-gauge paneling is a must. It is worth noting that customization options or advanced reinforcements can affect your metal carport price.
4. Location
As the adage goes, 'location is everything.' And this is true of your building as well. So if you live in a region of the US that regularly sees intense winds, heavy snow accumulation, and seismic activity, you'll want to plan accordingly.
5. Certifications
Since calculating the wind and snow loads of a building isn't an easy process, many building manufacturers have adopted a certification system. This standardized process tests certain building types against the average wind, snow, and seismic activity in each region. That way, no matter where you live, you can rest easy knowing that your building is designed for it.
What to Look for in a Metal Carport
Purchasing any metal building is a massive investment! And that's precisely why you want to do your homework to maximize your buying power. A big part of that is understanding what to look for in a structure. For example, you may start by checking the average snowfall totals in your area for the last half a century. This average can give you a rough idea of how much snow you'll expect each winter.
Once you have that number in hand, you can estimate that your metal building will need to be able to handle 10-20% more than that annual average. By running these numbers, you'll have a greater grasp of the performance you need from your new carport or metal building.
Metal Garage Central Is Your Trusted Name in Certified Metal Carports
If you've been eyeing a permanent, cost-effective solution for protecting your vehicles, valuables, and equipment, Metal Garage Central has you covered- literally! We're proud to offer a comprehensive lineup of metal carports, metal garages, and steel carport kits to suit any need. They're strong, built to last, and customizable far beyond any other construction type!
We're also excited to offer some of the best financing options in the industry, with low-interest rates and flexible payment plans that give everyone the ability to own their dream building!
Give our building specialists a call today at (980) 223-3072, and let them help you design, customize, and realize a metal carport that's right for you!