With the demand for vehicles only increasing, it makes sense that the need for protecting them will grow along with it. After all, Americans rely on cars, trucks, and work vehicles to carry on their daily lives. These machines are costly investments and require considerable care to keep them in pristine condition.
And that's why metal garages have become such a popular way of protecting these investments. Whether they're simple carports, one-car garages, or larger metal structures, these buildings provide the strength, longevity, and affordability vehicle owners need to keep their vehicles safe from the elements.
One such type of garage is the 1-car garage. Also commonly referred to as a single-car garage, these convenient metal buildings provide enough room to accommodate a single vehicle comfortably. However, these structures come in a wide variety of size options and footprint styles. Below, we'll take a closer look at the various metal garage sizes available.
How Large Should a One-Car Garage Be?
When choosing the right garage for your needs, you'll need to ensure it offers the interior square footage you require. No one wants to invest time and money only to discover their prefab metal garage isn't large enough! You may also want to include some extra square footage to ensure you have extra room to move around comfortably. Here's what you need to know.
Most one-car garages will start with measurements of roughly 12'x21′ and a height of 8′, providing plenty of room for housing smaller cars such as coupes and sedans. However, if you have a larger vehicle, such as an SUV or truck, you must design your building a bit larger. Luckily, the width, length, and height of your steel building are entirely up to you!
What if I Need More Room in My Metal Garage?
Sometimes, even if you're the owner of just one vehicle, you will still need additional room for equipment and valuables. And since prefab metal garages are highly customizable, you'll be able to design it to any size specification you need.
And if you already own a single-car garage, you can always add lean-tos and extra rooms to your one-car garage for extra storage space!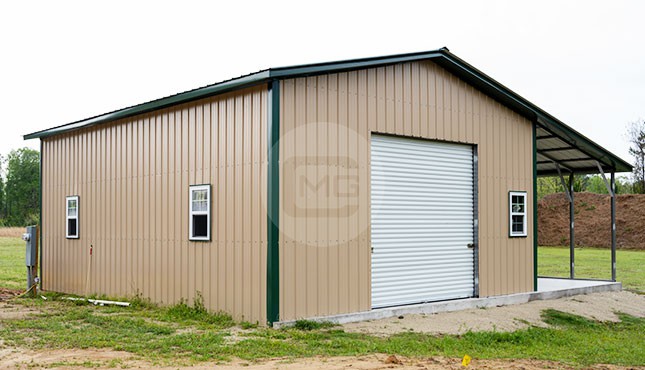 Key Things to Consider Before Purchasing a Single-Car Garage
When you set out to complete any construction project, there are several essential things to keep in mind that can make the process move smoothly. These include:
1. Choose a Budget
Before your metal building project can get off the ground, you'll want to develop a budget. By performing this due diligence, you'll ensure that you'll be able to handle any extra expenses that may occur during the construction process.
2. Choosing the Right Dimensions
Even though metal garages are designed for easy expansion, you'll probably save money by choosing the right metal building size on the first try. Most smaller vehicles will easily fit a 12'x21′ metal garage, but you'll still want to carefully measure your car to ensure you have the space you need before placing an order.
3. Choose a Good Location
Another crucial part of constructing a metal garage will be to choose the right spot for it. To do this, you'll want to ensure your installation site is entirely cleared of vegetation and is in an area that rests above natural water runoff. This will prevent the possibility of flooding or damage from natural weather events.
4. Pick Out Your Customizations
Since metal garages can be customized to a virtually endless degree, you'll have carte blanche to change almost every aspect of your building. From the framing thickness to the paneling style and color, make your building your way!
5. Building Certifications
Another crucial aspect of the process will be to choose a certified metal building for the job. A certified metal building is specifically designed to handle a region's average wind, snow, and seismic loads. By choosing a certified structure, you can rest easy knowing it's strong enough to endure the worst Mother Nature can conjure!
6. Building Permits
Before breaking ground on any structure, you'll want to check with your local building inspectors. Most localities will require you to secure a building permit for your structure before construction can begin.
7. Choose the Right Foundation
When you purchase a one-car garage, you'll have the choice between several foundation types. These include soil foundations, asphalt or driveway foundations, or concrete pads. Depending on your particular needs, one foundation type may work better than others.
Metal Buildings Aren't One-Size-Fits-All!
Despite custom metal garages being designed for adaptability, not all can handle the same job. A single-car garage might not be enough if you're the owner of multiple vehicles. Luckily, several garage sizes may work for you. These include:
• 2-Car Garages
These garages are specifically designed to accommodate two smaller cars while providing extra room to move around comfortably. They're also customizable and can be designed to meet any need or application!
• Three-Car Garages
For a larger-sized vehicle or several smaller ones, a three-car garage might be right up your alley. Choose your width, length, and height, and you're set!
• And More!
When it comes to these versatile structures, the only limits are your budget and imagination!
Get Your Single Car Metal Garage Today from Metal Garage Central!
For years, Metal Garage Central has been your one-stop shop for all things metal buildings. From smaller equipment sheds to larger custom steel buildings, we have the skill and material to do it all.
We're proud to offer fantastic metal building prices that make any residential, commercial, or industrial project feasible, but if you're working on a budget, we can help! We're proud to offer some of the best financing options in the industry, with flexible rent-to-own programs that give you the power to own your metal garage regardless of budget.
So, if you need to protect your family vehicles, give us a call today at (980) 223-3072. Our building experts will walk you through the process and help you design and customize a structure to fit your exact needs! And if you'd like to learn more about how to choose the various ways these structures can be used, subscribe to our blog!