The pandemic has changed so many things in the last year, and it may impact the way people think about doing things for years to come. One of those things that hasn't been the same since the pandemic started is going to the gym. Some gyms haven't reopened, while others are open with limited capacity and new rules regarding cleanliness and mask-wearing.
What if you had your own gym at home so you could work out in your own space? It's easier than you may think. And the good news is, you don't have to drain your entire bank account to make it happen. All you have to do is to turn your existing garage into a gym!
What, you don't have a gym? Not a problem! Metal garages are easier than ever to buy and have installed, and there are several payment and financing options available. Keep reading to find out how you can have your own personal gym in no time.
How to Turn Garage Into Gym
When we say it's simple to create a metal garage gym, we weren't kidding. You can find a lot of the stuff that you need at your local athletic store, hardware store, or even order the supplies online. You may even have some of these items lying around your house already!
Here's what you need to create a simple steel garage home gym:
Flooring
Having a cushioned floor in your gym is an important first step. Strength training and other heavy equipment can crack or break your floor if it's unprotected. All you need to do is cover your floor with rubber rolls or mats. It won't cost you a fortune, and it's great for yoga and other floor-based exercises too.
Battle Ropes
Battle ropes (aka heavy ropes) are pretty inexpensive and easy to come by. This makes them perfect for any home gym! Plus, working with heavy rope will tone your muscles better than most gym machines.
Battle ropes are a high-intensity, whole-body workout that creates both strength and endurance. It's a great combination workout that gets your heart rate up and builds muscle simultaneously.
And as far as strength training goes, battle rope training is one of the most efficient exercise routines you can do. It works the muscles in your upper body, back, and glutes, and you can incorporate movements like jumps, lunges, and squats that work your legs, too.
Tires
Ever seen those monster truck tires in your gym? Ever tried to use them? They're actually a great workout tool. But while you're hammering or flipping tires, ask yourself this question: "Why am I paying that gym owner such a high monthly fee just to hammer and flip tires in his building, when I could be flipping tires in my OWN steel garage gym at my house?"
Tire exercises have many benefits for your body; they tone your muscles, and also increase your strength and stamina. You won't get bored either, because there are countless variations of tire exercises you can do. And tire exercises involve almost every muscle of your body, with the option to focus on whatever area you want to target. A few examples include tire box jumps, triceps dips, decline push-ups, lateral jumps, toe touches, step-ups, broad jumps over the tire, pop squats, tire flips, etc… you get the idea.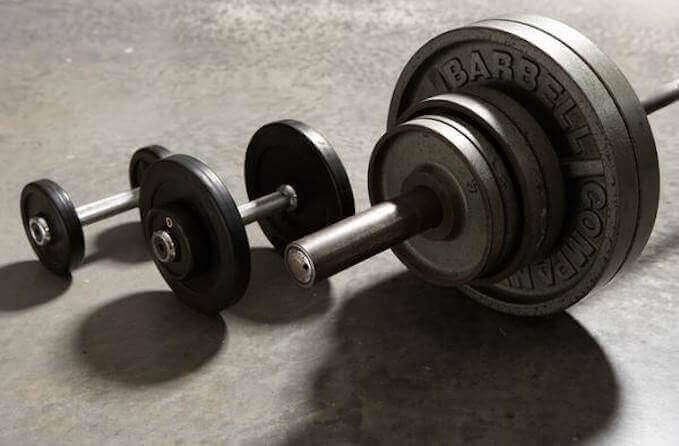 Barbell and Dumbbell Weight Set
It's hard to imagine a gym without a set of barbells and dumbbells, for a good reason. They are great for toning your hands, triceps, chest, back and shoulder muscles, and they won't break the bank either. They're much cheaper than complicated combination machines, and they're still a standard for bodybuilders all over the world.
Kettlebells
Kettlebells have become much more popular in recent years as they provide another strategy for building both strength and cardio at the same time.
Kettlebell handles are easy to grip, and a kettlebell workout is pretty much a full-body workout, involving muscles from head to toe. Kettlebells focus mainly on your core, and they're also helpful for improving your flexibility.
Yoga Mat
Fitness isn't just about sweating and pushing. It's also about having peace of mind, and yoga is a popular way to achieve this.
And yoga mats aren't limited to just practicing yoga; you can do all sorts of floor exercises on yoga mats, including planks and ab workouts.
Punching Bag
Punching bags aren't just for boxers! Working with a punching bag is considered to be one of the best core exercises you can do. All you really need is a punching bag and the right glove equipment, and you can execute your fitness plan anytime, day or night, in the privacy of your own garage gym.
Swiss Ball
A Swiss ball (aka gym ball) is a large ball made of vinyl or similar flexible material. Its inflatable property makes it ideal for core and back exercises. The benefits of using a Swiss ball with back pain patients have been extremely helpful too.
You can use this exercise ball for a variety of purposes: you can find neutral spine position, learn proper posture, increase low back flexibility, strengthen abdominal and back muscles, improve balance, develop overall control and strength of core body muscles, learn to lift properly, and so on.
TRX Cable
TRX stands for Total Resistance Exercise – a workout method which uses gravity and your bodyweight to build flexibility, coordination, balance, core strength, and joint stability.
Set up your TRX cable by easily anchoring at your door, ceiling, or wherever. Surprisingly, this simple fitness tool has given incredible results to its users, like building strength, weight loss, increasing stamina, and improving flexibility. It's a great, inexpensive addition to your garage gym.
Marking Cones
These cute little plastic cones cost next-to-nothing, but they're a great tool for creating a proper CrossFit exercise regimen, including running, jogging, knee lifts, and more. YouTube has many ideas of how you can use markup cones for a great workout.
Agility Ladder
Make your metal garage gym a complete fitness center by adding an agility ladder to your collection. It's an inexpensive piece of fitness equipment that you can use in high-intensity workouts like sideways shuffles, skipping through rungs, and other movements conducted up and down the ladder. These are used by pro athletes in their daily workouts, and now you can use one in the privacy of your own garage gym!
But What if You Don't Have a Garage to Transform?
It's one thing to transform your existing garage into a decked-out home gym, but what if you don't have a garage already? Metal Garage Central is here to solve your problem. All of our prefab home gym buildings are durable, affordable, and guaranteed to last a lifetime. Just look at all the great benefits:
Durable and long-lasting

Metal buildings aren't subject to the same issues as wooden structures. Thanks to their steel framing, our metal buildings can be made so that they are able to withstand wind speeds of up to 140 miles per hour and stand strong in heavy snows. Mother Nature is no match for premium-grade steel buildings.

Fully-Customizable

We know that all of our customers have their own unique needs. That's why every building we sell is completely customizable. You can choose from eighteen colors to ensure you get the best match for your home, add a variety of windows and doors, choose the roof style, and decide what certifications you want. You can get the exact metal building home gym that you want.

Cost-effective

If you're looking to save money, both now and in the long run, a metal building is exactly what you need. We offer competitive prices on all of our structures; you know you're getting the best deal by working with us. Plus, thanks to the durability of the steel we use, our buildings will last for years to come. There's no need to worry about pricey repairs or replacements!

Less maintenance

One of the main appeals of a prefab home gym is how low maintenance these steel structures are. There is no chipping paint to touch up, no rotting boards to replace, and no leaks to patch. Metal buildings are built to last, and that's what they do.

Energy-efficiency

Steel buildings are solid and secure. This is important for more than security purposes, though. Without any cracks between boards, there are fewer places for air to seep in or out. Your building will stay warm in the Winter and cool in the Summer as long as it has the right insulation.

Fire-resistant

There's nothing more devastating than a fire. If you store your stuff in a wooden building, all it takes is for lightning to strike a little too close for you to lose everything. You'll never have to worry about that with a metal building. Steel won't catch fire, and it doesn't burn, so your stuff is always safe.

Mold & mildew resistant

Another great thing about metal buildings is that they won't rot and ruin the way wooden ones will. Water rolls right off of the steel framing—it doesn't soak in—so there's no danger of mold or mildew destroying your building or your stuff.

Eco-friendly

There's no need to cut down trees or make more plastic with a metal building. Steel is an environmentally friendly material because it can be recycled. So, not only are you getting a great new building, you're helping the environment, too!
The Next Steps to Create Your Steel Garage Gym
After deciding to get your new garage from the best provider around, the next step is deciding what kind of garage you want. There are lots of options, from different room styles to a variety of different sizing possibilities. Let's take a closer look at each one.
Regular Roof Garages

Regular roof garages are as classic as they get. If you're looking for a building with old world charm, this is the style for you. Regular roofs have sloping sides that look similar to a traditional barn. They are made with horizontal paneling that runs from the back of the structure to the front. This style is also the most budget-friendly option.

A-Frame Horizontal Garages

A-Frame Horizontal garages are the best of both worlds. They have the same horizontal paneling as the Regular garage, making them easier on your wallet, but they have a peaked roof that matches the style of most homes. The added aesthetic appeal of this style is great if your garage will be front and center with your home.

Vertical Roof Garages

Vertical garages are our bestselling garage. The vertical roof is peaked, but unlike the previous options, it is made from vertical paneling instead of horizontal. This paneling runs from the top of the structure to the bottom, making it the most ideal for areas that experience frequent severe weather or heavy precipitation.

One Car Garages

These garages are one of the smaller options we offer. They are designed to comfortably house one vehicle. There is still plenty of room for storage and movability.

Two Car Garages

Two car garages are designed to house two vehicles. However, you could choose to store only one vehicle and use the remaining space for storage or turn it into a home gym. Even with two vehicles parked in the garage, there will still be room to move and store other things.

Three Car Garages

A three car garage is one of the larger standard garages we offer. It is designed to comfortably house three vehicles, but, like the previous option, it can be used in different ways. You could choose to park only one or two vehicles in the garage, leaving you lots of space or anything else you may need.
Metal Garage Central Makes a Difference
Metal Garage Central is the premier provider of metal buildings. Our metal structures are durable and long-lasting, not to mention versatile. If you're looking for a prefab building that can fulfill a myriad of purposes, look no further. What are you waiting for? Call Metal Garage Central today at (980) 321-9898 and see what a difference a new metal building can make!