What Makes a Custom Metal Building Better?
Sure, you could settle for a stick build, but that isn't really the best solution for what you're needing in a 40×60 building. Choosing the right construction materials for meeting your specific building needs can be challenging, and there are many factors you'll want to consider. If you're looking for a 40×60 structure which offers maximum available storage space for your personal, farm, or commercial needs, while also being strong, durable, and weather-resistant, then metal buildings are the way to go. A 40×60 garage, 40×60 metal shop, or comparable metal building solution will serve your needs much better. A metal building solution from Metal Garage Central is more dependable, more customizable, and requires much less maintenance than any stick-built structure. And we can match and beat any 40×60 metal building price, too!
What Are the Advantages of Owning a Metal Building?
There are many advantages when it comes to purchasing a prefab steel structure. Folks from all over the U.S. are using these metal buildings for everything from residential, to agricultural, to commercial, and even industrial purposes. When compared with traditional stick-builds or wood-framed buildings, steel structures offer many clear advantages. For starters, these metal buildings are very versatile and completely customizable in terms of both design and functionality. And prefab 40×60 metal buildings are also incredibly rugged, weather-resistant, fire-resistant, pest-resistant, more cost-effective to build, and also cheaper to insure.
Here are just a few things which set a 40×50 metal building or 40×60 metal building apart:
1. Durable
Steel is the strongest commercially available construction material, and steel tube framing makes for some very tough and resilient structures. These types of steel buildings are designed to last for decades and even generations, and are made to withstand wind stresses, snow loads, and even seismic tremors.
2. Customizable
What type of building would you like to design and create? You've got plenty of options with Metal Garage Central. If you can conceive it, we can provide it in a metal building solution! Not only do you get to choose your building's size and design, but you also get to decide where to place roll-up doors, walk-in doors, windows, and other points of entry. You get to choose the colors of your roofing, siding, and trim, as well.
3. Faster to install
How soon do you need your building? Metal building installation goes much more quickly than traditional stick-built construction. Once your prefabricated building materials arrive on site, most metal buildings can be installed in a matter of just a day or two. By comparison, a comparable stick-built structure can take weeks or even months to construct.
4. Lower maintenance costs
Wood-framed and wood-covered structures require regular maintenance, including painting and staining. But a properly coated metal building doesn't need any repainting or staining, and can usually be cleaned with nothing more than a sprayer or pressure washer.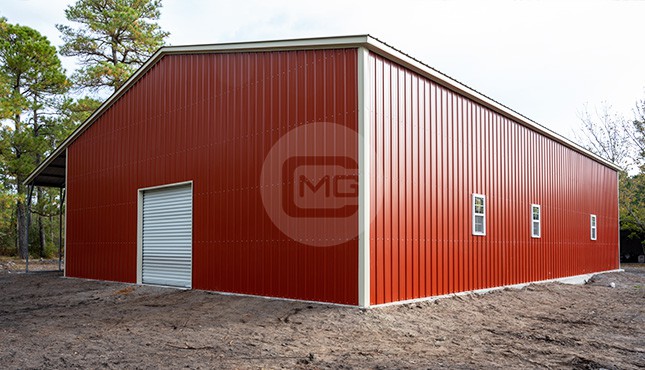 What Are Some of the Ways You Can Use a 40×60 Metal Building?
With a 40×60 metal building, there really are no limits in terms of application possibilities. If you can dream it, then you can make it happen with one of our custom metal buildings! Here are just a few of the ways we've seen our customers take advantage of the 2,400 square feet of space their new metal building from Metal Garage Central offers:
1. Use it as a barn
A 40×60 barn is a popular option for both personal and commercial farm usage. If you need a place to accommodate your horses or livestock, a 40×60 metal barn can fit the bill beautifully. It's easy to design and customize whatever horse barn or livestock barn you might need, and these barns are also very easy to care for and maintain.
2. General agricultural use
Perhaps you need a space that can handle storing things other than just animals. Our custom steel buildings are perfect storage solutions. Use one of our 40×60 metal buildings to store hay, straw, feed, seed, tractors, farm equipment, or whatever else you need to keep under protected cover.
3. Commercial-sized garage
What does "commercial-sized" mean when it comes to metal buildings? Generally, that refers to anything larger than a 30'-wide building. And a 40×60 metal garage is large enough to house multiple vehicles. For that matter, a 40×60 garage makes a great commercial auto repair shop facility, too.
4. Retail space
If you're looking for a space to house your new retail business, a 40×60 metal building can fit the bill beautifully. It's a more cost-effective solution than a stick build, is completely customizable, and is simpler to maintain.
5. Recreation or fitness center
Whether you're looking to build a backyard gym or even start your own fitness center business, a 40×60 metal building can help you to achieve either goal. There's plenty of space for putting in free weights, fitness machines, floor mats, and whatever other equipment you'd like to include.
6. Personal aircraft hangar
If you own or are planning to purchase a personal aircraft, you're also going to need a hangar for protected storage. There's no better personal hangar solution than a 40×60 metal building.
7. Restaurant
40×60 buildings make great restaurants, too. There's plenty of floor space for dividing into a prep/kitchen area, dining area, and restroom facilities. These buildings also make excellent bake shops, coffee shops, breweries, wine tasting rooms, and more.
8. General storage
Need a general-purpose storage facility? You can fit A LOT of stuff inside a 40×60 metal building!
9. Industrial use
If you operate a manufacturing, production, or other industrial business, you'll find a 40×60 metal building to be a valuable addition. You can house all sorts of equipment and processes inside, and we can provide you with a custom steel structure that's tough enough for industrial use.
10. Multipurpose building
Want to use your 40×60 metal building for multiple applications? With 2,400 square feet of fully usable protected space, you can divide up your interior floor plan for practically any type of usage you can dream up.
Partner with Metal Garage Central for Your Perfect Building Solution
Metal Garage Central provides quality steel structures for all sorts of custom applications; if you need it in a metal building, we can deliver it! And we're just as serious about providing you with the best possible customer experience, too.
We're happy to deliver and install your metal building at NO extra cost all across our 46-state footprint. And if you'd like to order a custom metal building kit that you can pick up and install yourself for a discount, we give you that option too. Oh, and did we mention? We've also got the best financing and rent-to-own options in the business!
Our friendly & knowledgeable building experts are standing by to help. Give us a call today at (980) 223-3072, and experience the Metal Garage Central difference!