Modern Metal Carports at a Glance
For years, metal carports have held a firm seat as one of the most popular ways to protect your vehicles, equipment, and valuables from the elements. They last longer than wooden structures. They're more affordable, and they're far more adaptable. In fact, their level of customization makes them useful for a number of applications.
And if you're in the market for a new metal carport to protect your vehicles, you've probably already seen the wide range of options offered. But if you're new to the process, it's understandable that you might not know how to get started in the design process.
But we're here to make sense of it all! In this blog, we'll talk about custom metal carports, their unrivaled level of customizability, and what you need to know to make the most of your next purchase!
How to Customize Your Carport
Whether you're interested in buying DIY metal carport kits or building an oversized enclosed steel garage, you'll have many options to make your structure suit your particular needs. But if you're unfamiliar with how these structures are customized, you might not have a full grasp of how they can be personally tailored. So, let's take it one step at a time and walk through a checklist of things you'll want to cover when designing yours.
1. Selecting the Right Size Metal Carport
• The Carport's Purpose
How will you use your carport? This is often the first step in deciding how many vehicles you have and how big you want your carport to be. For example, are you planning to store a single vehicle? Or are you part of a multi-car family? Understanding your needs will significantly streamline the rest of the design process.
• Choose the Size
You'll have the ability to choose between several size options. Most folks will go with a standardized size such as a one, two, or three-car carport. Single-car carport options will start at roughly 12′ wide but can be designed in any width, length, and height.
2. Deciding Between Size Options
As mentioned, some standard size options include single, double, or triple car carports. And a big part of deciding which works best for your needs will be how many cars you own and their size. A single-car carport will easily accommodate a small or medium coupe or sedan, but you may need additional square footage if you own a truck or larger SUV.
You'll want to take into account your vehicle's:
• Type
• Height
• Width
3. Choosing Your Carport Roof Type
Once you've nailed down your preferred carport size, the next step will be to choose a roofing option. Most metal building providers will offer one of several types, such as:
• A-Frame Roofs
Also known as a boxed eave design, this roofing type will closely resemble the roof you'd find on a residential home, with overhanging awnings, a sharpened roof peak, and horizontally arranged paneling. It's a fantastic option for most environments and is especially handy in regions with high wind.
• Vertical Roofs
Vertical roofing is a premium roofing type that's well suited for hazardous conditions such as high winds or snowfall. It combines the best aspects of an A-frame roof with vertically oriented paneling. This clever design allows rain, snow, and general debris to fall harmlessly from your roof, keeping it in good condition and greatly expanding its lifespan.
4. Color Options
The next part of your metal carport journey involves picking a color. Most manufacturers offer numerous standard and premium color options for roof panels, walls, and trim. You can even mix and match to develop gorgeous color schemes!
5. Doors
If you decide to enclose your structure, or if you purchase a combo building that combines a carport and a building, you'll have to choose between several door types. Add standard entryway doors or more oversized roll-up garage doors. Or both! There are no limits when you're working with the power of steel!
6. Windows
Much like doors, if you're building an enclosed building, it will likely need windows. These windows allow natural light to fill your structure and provide a great passive ventilation method. And since you have complete control over your building's design, add as many as you'd like!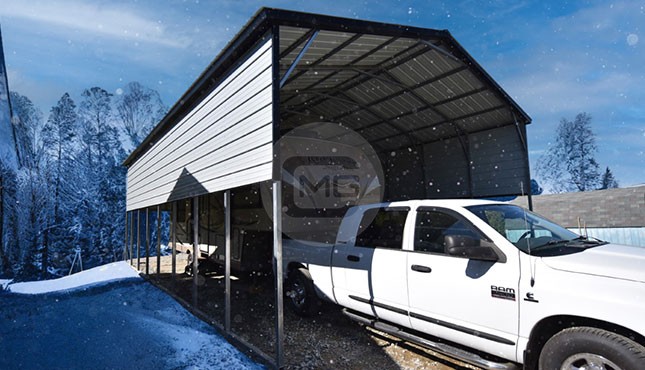 Extra Additions for Your Carport
Believe it or not, there's more to carports than just metal beams and paneling! These structures can be modified with several extra features that set them apart from the competition. And if you want to make your design truly your own, here are a few ways to do it!
• Enclose Your structure
As mentioned previously, you'll have the option to transform your carport into a fully enclosed garage! This will ensure that you can keep your cars or equipment in prime condition, no matter the weather outside.
• Insulation
If you want to design a livable space, adding insulation is a big step towards achieving that. It will reduce interior moisture buildup and heat loss from airflow, allowing you to maintain a more even ambient temperature.
• Electricity and Lighting
Another great way to make your structure easier to use is by wiring it for electricity and installing lighting. However, unless you're a licensed electrician, you'll likely need professional assistance with this aspect of your build.
• Plumbing
Another big add-on to your structure will be plumbing. If you expect to turn your carport into an enclosed guest house or living space, it will need proper plumbing and utilities.
• Lean-tos
Another way to customize your carport for additional space is by using lean-tos. These open covers are added to one or both sides of your carport, extending its coverage.
Contact the Experts for Your Next Metal Building Project!
Metal Garage Central is proud to provide an extensive array of steel carports for your everyday needs. It doesn't matter whether you're looking for a simple backyard shed or an expansive metal garage; we deliver lasting results and customer service that goes above and beyond.
We're proud to offer some of the best metal carport prices in the industry and back that up with industry-standard warranties and guarantees.
And if you're working on a budget, we have the best financing options in the game, with 0% financing, low-interest rates, and flexible payment schedules.
So, give the experts a call at (980) 223-3072 if you're ready to start your metal carport journey. We'll happily walk you through the process from design to completion. Because what's central to you is central to us.