Buying Smart When It Comes to Metal Buildings
Thanks to their overall versatility and low construction cost, steel buildings have risen to become one of the most popular construction methods on the market. They've expanded far beyond the classic carport or backyard garden shed into one of the most widely used building types for residential, commercial, and industrial projects.
However, while the initial cost of a steel building may be lower than other construction options, overspending can quickly occur if not managed carefully. Choosing cheaper products or cutting corners may seem like a good idea to save money, but it can lead to higher costs in the long run.
In this blog, we will cover some vital tips for preventing overspending on your next steel building project and help you maximize your buying power. Whether you're building a new warehouse, garage, or home, these tips can help you avoid extraneous costs and unforeseen expenses and help you get the most out of your structure.
Tips for Controlling Metal Building Costs.
Controlling costs is crucial in any construction project, and metal buildings are no exception. Here are some tips for managing your metal building costs and keeping your project within budget:
1. Do Your Homework
Before starting your project, do your research to understand the options available to you. This will help you make informed decisions and avoid costly mistakes. Consider the size and design of the building, the type of materials needed, and any additional features you want to include.
2. Choose Your Metal Building Options Wisely
While adding features like insulation, windows, and doors can make your building more functional, they also come with additional costs. Be mindful of your choices and select only the necessary options for your project.
3. Plan Now for Later Expansion
If you anticipate needing more space in the future, plan for it now. It's often more cost-effective to expand your building later than to start from scratch. By planning ahead, you can also avoid any potential setbacks when trying to retrofit an existing structure.
4. Keep the Lines of Communication Clear
Clear communication with your metal building supplier is essential. Be upfront about your budget and your expectations for the project. This will help your supplier identify areas where cost savings can be implemented without sacrificing quality.
5. Carefully Check Your Bill of Lading
Ensure that you check the bill of lading before the materials are shipped to your site. This will help you avoid any unexpected charges or delays that may arise from incorrect orders.
6. Do You Have the Right Tools and Equipment?
Ensure that you have all the necessary tools and equipment to make the project go smoothly. Doing so can prevent unnecessary delays and additional costs from renting or purchasing additional tools.
7. Do You Have an Adequate Crew
This is especially true if you've invested in metal building kits that leave the construction up to you. If you forego professional installation, you'll need to ensure that you have enough workers on your crew to complete the project on time. Ensuring you have the right crew will prevent delays, safety risks, and overtime costs.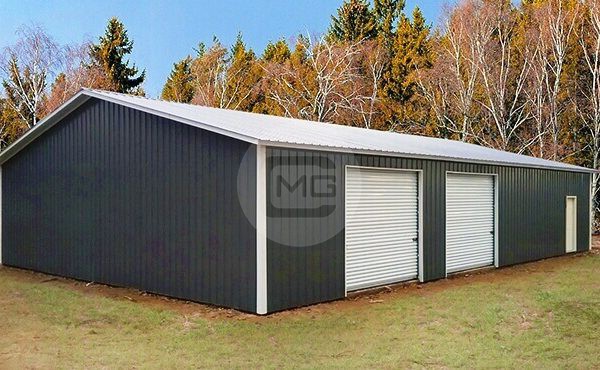 Mistakes That May Incur Additional Metal Building Expenses
When it comes to constructing both residential metal buildings and commercial metal buildings, avoiding costly mistakes is crucial to keeping your expenses in check. Here are some common mistakes to avoid that can lead to extra expenses:
1. Pouring Foundation Before You Get the Plans
This is a big one! Pouring a foundation before having the proper plans in place can be costly. Changes may need to be made to the plans that could require you to start over and pour a new foundation. This can result in unnecessary expenses that could have been avoided by waiting until your steel building plans were finalized.
2. Taking Delivery of a Steel Building Before You Get Proper Permits
Not obtaining the necessary permits before taking delivery of your metal building can result in extra expenses, including fines and possible delays. Always ensure you have the required permits before delivery to avoid unforeseen trouble.
3. Buying From a Company Without an Engineering Department
Choosing a company without an engineering department can lead to mistakes in the design and planning process. This can result in additional expenses to correct any issues that may arise during construction. You'll want to work closely with a trusted metal building provider with in-house engineering expertise.
4. Not Figuring Out the Total Cost
A budget is the lifeblood of any project. And failing to calculate the total cost of the project can lead to unexpected expenses and delays. Therefore, it's essential to consider all the costs, including materials, labor, permits, and any additional fees or expenses that may arise during the construction process.
Metal Garage Central Has You Covered!
At Metal Garage Central, we don't just offer everything from small steel building kits to large metal buildings; we provide steel solutions that last. Between our superior engineering and dedicated customer service, you can rest easy knowing you're getting a product that will provide years of service.
In addition to our high-quality products, we also offer flexible financing and RTO programs to make your next building project more affordable. These programs make it easier to find what you need without breaking the bank.
So, if you're embarking on a metal building project, contact Metal Garage Central! Our building experts are waiting to help you design and customize a structure to suit any residential, commercial, or industrial need! Call today at (980) 223-3072, and let us show you how Metal Garage Central has you covered!