Are you looking for a place to protect your car? What about any of your other toys like your boat, RV, or ATV? Prefab metal garages are the most reliable protection you can have. They are completely customizable too and can be designed to fit any of your needs, from car protection to a workshop or even a man-cave. And the best part? They are affordable too. Keep reading to find out how steel garages are the cost-effective storage solution you've been looking for!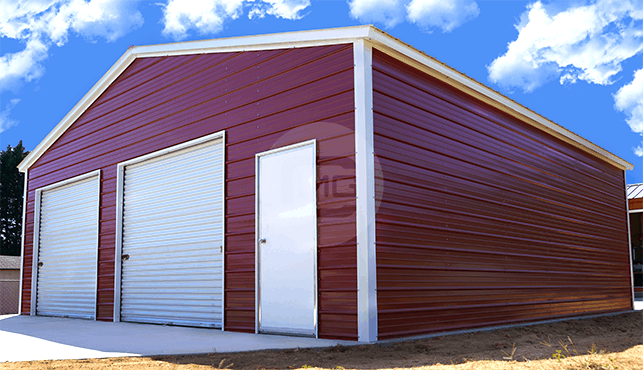 Types of Metal Garages
There are so many different types of metal garages on the market. The best part is that all of them can be designed to fit any size or need that you have.
Regular Roof Garages
This roof style is the most cost-effective style that's offered at Metal Garage Central. A regular roof garage is easy to recognize because it looks similar to a barn because of its rounded edges and has panels that run horizontally.
Boxed-Eave Roof Garages
Boxed-eave roof garages, also known as an A-frame roof, also have horizontal paneling, but it's built sturdier to hold up in high winds. However, these steel garages aren't meant for areas that have heavy rain or snow. This roof option is popular with homeowners because it can easily blend in with other structures on the property because it doesn't have the rounded style like the regular roof garages. It's also sturdier than a regular roof garage but doesn't have the price tag that comes with the vertical roof garage.
Vertical Roof Garages
This is the premium garage roof option that we offer at Metal Garage Central. A vertical roof garage holds up the best in areas that experience heavy rain or snow. The vertical-oriented paneling helps the rain, snow, and other debris fall off the roof and away from the building with ease.
One-Car Garages
Most one car garages are anywhere from 12' to 18' wide. You can customize the length depending on what type of car you need to park under. We can create a garage to fit your exact specifications.
Two-Car Garages
If you need more space to park, we can also design a garage to fit two cars.
Three-Car Garages
Need even more room? Not a problem. We also offer 3-car garages. Our 3-car garages usually start at 20' wide, but they can go up to 30' wide or more if you need it!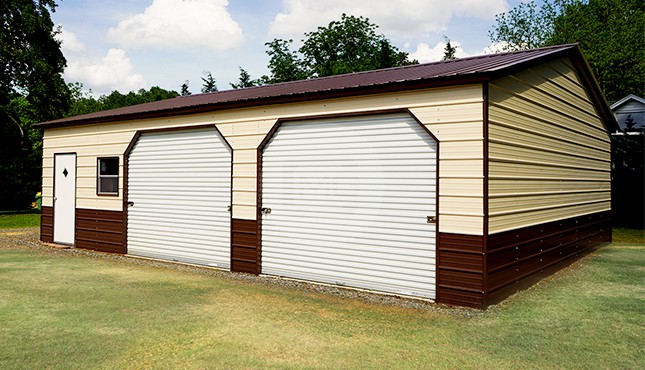 How Much Do Metal Garages Cost?
To prepare for how much your metal garage is going to cost, you have to make sure to be prepared for everything that comes your way. This is why you have to be detailed when planning out your garage.
Let's take a look at the design process and give you an idea of what it takes and how some factors can increase the cost:
Building a Metal Garage
The first and most important step is talking to your local building department to determine if there are any city, county, or state-specific restrictions on materials, designs, etc. This will help you with the design process.
Next, you'll have to establish a budget. This will help determine the size and accessories you're able to add to your building.
Figure out where you want your building and measure the area. Be sure to account for any future growth.
Get your local permits.
Order your building materials.
Get a contractor to build a solid foundation.
Now it's time for your steel garage installation. You can have Metal Garage Central deliver and install your garage, or if you love a good DIY project, you can buy a metal garage kit and install it yourself.
Do You Need a Building Permit for Your Metal Garage Installation?
A building permit is another thing that could be added to the list of expenses for your metal garage cost. While this may seem annoying, it will save you in the long run. If you put up a building before you get a permit and it is required, it could cost you a big fine, or even worse, you could be forced to take your structure down. So, make sure you ask about a permit before you get started on the installation.
Factors Affecting Metal Garage Prices
Pricing metal garages aren't as easy as just throwing out a price. There are several different factors that can cause the price to go up.
Let's take a look at the price ranges, and then we will go over some factors that cause the price to change:
12' x 22' – This is the size for a typical single car garage. The average cost for this building is between $6,000 and $10,000.
24' x 24' – This is the standard size for a two-car garage. The price for a two-car garage ranges between $15,000 and $27,000.
35' x 75' – This is the standard size for a metal garage and workshop kit. This garage has an average cost between $28,000 and $30,000.
Here are a couple of things that can impact the price of your garage:
Size – The larger, wider, or taller than the structure gets, the more the price will increase.
Wind and snow loads – If you have high wind or heavy snow, then you may require sturdier steel, or even additional steel, which will be more expensive.
Customizations – You can add doors, windows, and trim to your garage. However, the more customizations that you have, the more your price will increase.
Manufacturers – We work with 30 manufacturers around the country that have their own pricing sheets. So, the location where your building is going and the manufacturer that has to be used will affect the final price of your garage.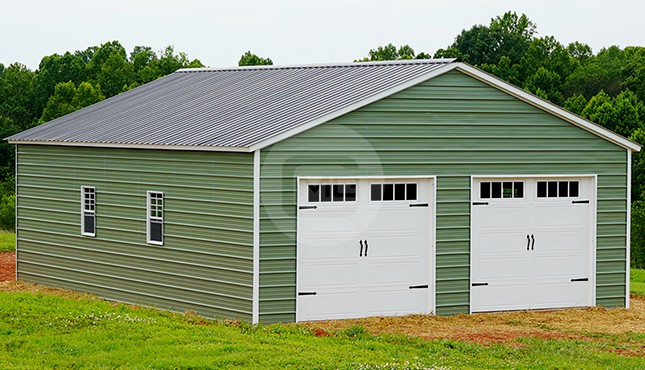 Why Metal Garages Are the Best Choice
Steel is one of the most cost-stable materials in the market, and it's also the most durable. So, if you're trying to decide between a wooden garage and a strong steel garage, there's no doubt that steel is just better.
Here are a few of the many reasons why prefab metal garages are the way to go:
Durability – Steel garages are built tough. They can stand the wear and tear of everyday use, plus they stand strong in even the wildest weather conditions. And did you know that metal buildings are fire resistant? Our tough metal buildings can even stand up to the fire, so you can sleep easy knowing your belongings are safe.
Cost-effective – The cost of construction is less. You can cut that price in half compared to the labor requirements that come with wood or concrete buildings. That's because steel garages are premeasured and pre-drilled for easier installation.
Low maintenance – You won't have to worry about replacing rotten wooden areas. That's because the metal is resistant to shrinking, warping, or cracking. All you need to do is pressure wash or hose your building down once in a while to keep it looking sharp. And you won't have to worry about treating for termites either because metal doesn't attract pests as wooden structures do.
Versatility – A metal garage offers more variations in size, shape, and overall design. So, you can use your garage for so much more than storage like an outdoor entertainment space, a personal gym, a playroom for the kids, a home office, and so many other uses.
What is the Best Metal Garage Company?
When it comes to the best quality garages, it doesn't get any better than Metal Garage Central. We offer the best product catalog in the industry with the lowest prices. Our friendly and knowledgeable building specialists are here to help you find the exact garage you need at a price you can afford. Give us a call today at 980-321-9898 to get started!