Need to Add Some More Residential Space, Finished Space, or Storage Space? Think Metal!
If you're like many American homeowners, you may now be in the place where you'd like to have some more space. Perhaps your family has grown, your space & storage needs have grown, or both! If this is the situation in which you find yourself, then there are a few options available to you
1. Buy a bigger house
But this might not be the best option for you, as we're currently very much in a seller's market.
2. Add onto your existing home
But the issue with that option is that home remodeling and expansion is a pretty involved process that can be time-consuming, expensive, and somewhat inconvenient as it concerns your current lodging situation.
3. Design and install a custom steel building
Honestly, this is probably your best option for a number of reasons. Steel structures are incredibly durable, functional, customizable, and cost-effective to build. And a metal building isn't just great for vehicle parking or external storage. Metal buildings are also easier to finish than you might imagine and make for great residential spaces in their own right.
Looking for a good way to create your own personal retreat? A metal building from Metal Garage Central could really be your ideal solution!
Barndominiums and Metal Homes Have Become Increasingly Popular Across the U.S.
Maybe you've already been following the metal barndo craze with some interest. But whether you're familiar with the concept of finished metal buildings or not, the trend has taken off across America nonetheless. It really caught fire in Texas several years back, but now finished residential metal buildings are being installed all over the Southwest, Midwest, Southeast, West Coast, and pretty much everywhere else.
Most barndos are designed to mimic the appearance of a barn on the outside, while the interior can be finished any way you like. Metal buildings are now being used as primary residences, vacation homes, office buildings, production facilities, and for a number of home, work, commercial, and farm applications. What makes custom metal buildings stand out from other construction approaches? Keep reading to learn more!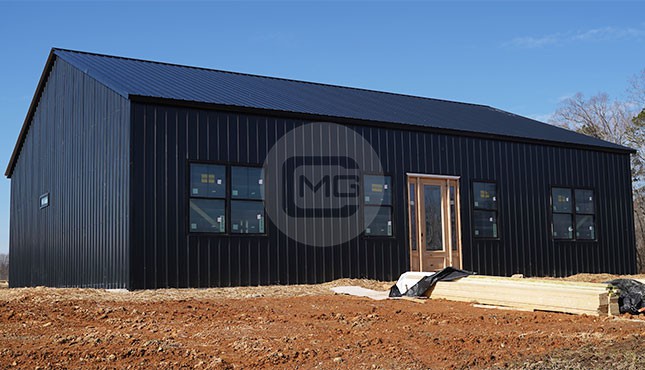 The Many Benefits of a Custom Steel Structure
If you haven't given it much thought before now, you should know that there's a lot to like about going with a custom metal garage building or metal building kit. Here are a few features and benefits worth noting:
• Cost to build
Since the cost to build is really a primary concern for any property owner nowadays, let's start with metal garage prices and metal building prices. While material costs have risen for all construction materials over the past couple of years – including wood, metal, and everything else – the fact remains that it's still more cost-effective to build with steel. And the larger your building design, the more you'll save per square foot by going with a steel frame and steel paneling. On average, a steel-framed home is around 30% cheaper to build than a comparable wood-framed home. That should be enough to get your attention right there!
• Flexibility of building design
Do you value interior layouts with clear-span space that's both versatile and customizable? If so, you'll love the possibilities offered by a custom metal building. The steel framing is engineered to support the full weight of the building without requiring any insertion of interior poles or columns. In other words, you have an open interior design plan that you can tailor and divide any way you decide!
• Faster, easier construction process
Having a stick build put up on your property will take months, or even longer than a year to complete. But metal building construction, on the other hand, is a much more streamlined process. All of your custom steel building components are prefabricated, premeasured, and precut in a dedicated manufacturing facility before ever arriving at your building site. That means these buildings can go up much faster, with significantly less required labor. In fact, if you're a DIYer who likes to work with your own hands, you can even design and order a custom metal building kit that you can put up yourself!
• Designed with energy efficiency in mind
You might assume that a wood-framed building would be more energy-efficient, but that's really not the case. For example, a well-insulated metal home can be 40% more energy-efficient than a wood-framed home. Surprised? That's because steel framing is very dense and compact, meaning there's more cavity space available for filling with insulation. And the more insulation you have, the easier it is to maintain a climate-controlled environment with less demand on your HVAC system. This results in greater savings on your heating & air costs, and the additional insulation also means better buffering of any external noise pollution as well.
• Eco-friendly construction
You probably know that trees are a renewable resource – but construction-grade lumber often isn't. In many cases, it's produced in a manner that isn't necessarily environmentally friendly or sustainable. But the steel used in our Metal Garage Central buildings is different. It always includes a minimum percentage of recycled steel content, and the building components themselves are 100% recyclable. Choosing steel construction benefits the environment in other ways, too. With precision-fabricated steel components, there's essentially no waste material produced on the construction site, so almost nothing ends up in a landfill. Once you take all the facts into consideration, it's really no stretch to say that steel construction is one of the most eco-friendly building approaches you can choose!
• All the strength and resiliency of steel, too
And last but not least, don't forget about the other beneficial properties of steel. Galvanized steel is engineered to be sturdy, resilient, and long-lasting. It's much more resistant to the threats of weather, fire, lightning, pests, and earthquakes than wood. A steel building is simpler to clean and maintain, too. Oh, and here's one more cost-benefit to bear in mind – a steel building is often cheaper to insure, as well.
Looking for a Perfect Metal Building Solution? Metal Garage Central Has You Covered!
Metal Garage Central doesn't just provide the best steel structures. We also deliver the best customer service and offer the most positive customer experience. And don't forget about our industry-leading financing and rent-to-own options!
We're happy to deliver and install your custom metal building at NO extra charge anywhere within our continental U.S. service area. Are you someone who prefers to get things done yourself? We also make custom metal building kits available for a discount. The kits we provide come with all materials you'll need for building installation, including fasteners and anchors.
Our friendly & knowledgeable building experts are here to help! Just give us a call today at (980) 223-3072, and experience the Metal Garage Central difference for yourself!