The Widespread Popularity of Prefab Steel Buildings
From Seattle to Miami, and from San Diego to Bangor, more and more homeowners and business owners are taking advantage of prefab steel structures these days. Folks from all across America are using these types of metal buildings for everything from residential, to agricultural, to commercial, and even industrial purposes. When compared with traditional stick-builds or wood-framed buildings, steel structures really offer many advantages. For starters, they're very versatile and completely customizable in terms of design, decoration, and function. Prefab metal buildings made with steel are also incredibly rugged & durable, are resistant to weather, fire, & pests alike, are more cost-effective to build, and are typically cheaper to insure, too.
What is a Prefab Steel Building, Exactly?
Conventional or traditional construction involves the onsite construction of a building from scratch. Wood framing is the most common building material for conventional construction, but other materials like concrete, brick, and cinder block are also commonly used. Conventional construction can be used to produce a good-quality building, but it's a process that tends to be slow, expensive, and time-consuming, and it also generates a significant amount of waste materials.
Pre-engineered metal buildings (or PEMBs) are different in that each individual steel building component is precision-engineered, precisely measured, and fabricated in a dedicated manufacturing facility. With this type of construction approach, the building materials arrive at the site ready to be installed. In other words, PEMBs aren't built from scratch at the job site; much of the work is done ahead of time, making the construction process go much faster and more smoothly, with less needed onsite labor.
There Are Decided Advantages to the Prefabricated Steel Building Approach
While pretty much all types of construction involve design, framing, and finishing work to produce a building, they can take some significantly different paths to reach the end result. Let's look closer at some specific reasons why PEMBs are really a better choice:
• Streamlined Design Process
PEMBs are typically built from well-established design templates, each of which is completely customizable. Because this essential design groundwork has already been laid, the design process is often much faster – and less expensive. These steel tube-framed buildings are also designed with local and state building codes and wind/snow loads in mind, so they can usually be permitted with less red tape, as well.
• Better Quality Control
Since every aspect of a particular PEMB is fabricated by a single manufacturer with components from a known steel source; there are fewer unknowns or variables to deal with. Each component is precision-engineered, crafted, measured, and tested for quality and material soundness before ever leaving the manufacturing facility. The same really can't be said for conventional construction materials!
• More Lightweight Building
Thanks to the density of steel, PEMB framing and sheeting can be produced in a manner that requires less bulky components and which generates practically no waste. Steel buildings are actually 30% lighter than other comparable buildings, while still delivering greater durability and reliability.
• Fewer Foundation Requirements
A lighter steel building can be installed on a much simpler foundation. Conventional steel buildings usually require extensive foundation preparation, while PEMBs can be installed on almost any level surface. With the proper anchoring, a PEMB can be installed on everything from concrete, to asphalt, to gravel, to plain level ground!
• Earthquake-Resistant
The more a building is able to flex under stress, the better suited it is for enduring seismic activity. Conventional construction tends to be pretty rigid, meaning it won't perform very well during a series of rolling earthquake waves. While no building is completely earthquake-proof, PEMBs have been shown to be significantly more earthquake-resistant than other conventional building styles.
• Easier to Adapt or Expand
No matter how well you design and plan out your initial install, your building needs can still change over time. Pre-engineered steel buildings are easier to adapt or expand in the future, especially if you choose to partner with your original metal building provider again. On the other hand, adapting or expanding a conventional build will almost always require a good bit more time, effort, and money.
• Shorter Lead Time
Need your building now? Don't have time to wait months, or even up to a year or longer? Then it makes sense to go with a pre-engineered metal building. From the time of your initial order, a PEMB can usually be custom fabricated and installed on your site in a matter of weeks, not months!
• Lower Cost Per Square Foot to Build
Let's face it – there's really no such thing as cheap construction these days. And you certainly want to choose a building that's durable, reliable, functional, and attractive. Even so, costs can still add up in a hurry. As long as you go with a reputable metal building provider like Metal Garage Central, you won't need an independent architect, and your building can be constructed with less material, less labor, and fewer foundation requirements. Once you add it all up, you'll pay much less for a PEMB than you might have to spend for a building made with conventional materials. Steel building prices are more affordable than you may realize!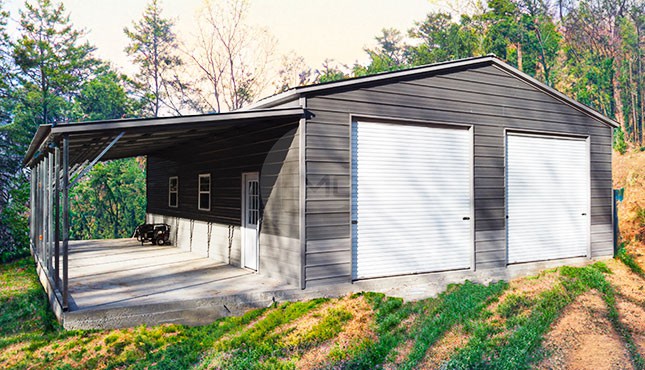 Some Popular Applications of Prefabricated Steel Buildings in America
When it comes to the many applications for a prefab steel building, there really aren't any limits. Obviously, they're great for storage purposes, but they're also great for many other things. Here are a few ways you can make use of a multipurpose steel structure:
Carport or enclosed garage for personal vehicles like cars, trucks, SUVs, motorcycles, or whatever you drive.

Secure shelter for larger vehicles, including RVs, motorhomes, boats, campers, buses, or trailers

Great place for keeping lawn, garden, and recreational equipment, like mowers, weed eaters, tools, ATVs, bikes, scooters, and more

Don't just keep stuff in a steel building – you can

do

stuff in a steel building! They make great workshops, hobby barns, man caves, she sheds, home office spaces, metal homes & barndominiums, etc.

There are plenty of farm applications too. Steel structures are ideal for farm, ranch, and agricultural storage, including covering tractors, combines, crops, feed, seed, and hay.

Steel buildings also make fantastic horse barns, livestock barns, poultry houses, and kennels for dogs or other animals.

Warehouse for large equipment or machinery storage or production

Many commercial & retail applications too, including storefronts, boutiques, restaurants, cafes, bakeries, coffee shops, breweries, office buildings, service centers, and more
Why You Should Choose Metal Garage Central for Your Pre-Engineered Steel Building Needs
Metal Garage Central actually cares about our customers and clients; we're here to get you whatever you need! We're serious about providing the best steel structures with the best customer service and the most positive customer experience. We've got the best financing and rent-to-own options in the business, too!
We're happy to deliver and install your metal building at NO extra charge anywhere within our 46-state service area. But if you like doing things yourself, we also make custom metal building kits available for a discount. Our kits come with all the building materials you'll need for installation, including fasteners and anchors.
Our friendly & knowledgeable building experts are standing by to help; we've got you covered! Just give us a call today at (980) 223-3072. Experience the Metal Garage Central difference for yourself!