Are you looking for a durable and affordable storage structure for your farming needs? Then a metal barn from Metal Garage Central is the perfect solution for all your sheltering needs. Our barns are built by experts with precision engineering in order to keep your farm animals and valuables safe and secure from extreme weather conditions. You use these steel barns for residential, industrial, commercial, and agricultural purposes. Furthermore, you can also use it as a dairy barn, livestock barn, riding arena, hay barn, step-down barn, and more. You can fully customize these steel barns by using various customization options such as doors, windows, roof styles, colors, and more. 
You can connect with us at  (980) 223-3072, and one of our building experts will help you design and order your dream building. We ensure our experts will build a metal barn structure that fits your storage needs perfectly for years to come. 
Summer Means Outdoor Gatherings
While summer doesn't technically kick off until June 21, the warm weather has already arrived. We're now into the prime season for backyard bashes, neighborhood BBQs, pool parties, July 4th celebrations, wedding receptions, and all sorts of outdoor gatherings. For every reason there is to celebrate, there's sure to be an outdoor gathering happening somewhere.
But Where to Host Your Party or Event? Just Install Your Own Metal Party Barn!
Trying to find a good spot for hosting your own celebration? There's no need to try and cram a bunch of people inside your house, and there's no need to have to rent space offsite either. A better, more convenient solution is to use a large metal barn or metal building installed right on your own property. Perhaps you've never thought of a metal building as being a particularly festive spot – but that doesn't mean it can't be! From a practical standpoint, a large metal building is almost certainly larger than any single room on your entire property. And if something gets spilled out in the barn, that's much easier to deal with than a liquid stain on your new indoor carpet.
Why a Steel Structure Makes Good Sense
Metal barns and metal buildings from Metal Garage Central are great for agricultural endeavors, parking vehicles, storing equipment & other items, and much more. And in the context of our present discussion, metal structures work really well as facilities for hosting all sorts of outdoor events & gatherings. There are plenty of other specific reasons to choose steel construction, too. Light-gauge steel tubing boasts the best strength-to-weight ratio of any construction material. It's weather-resistant, pest-resistant, fire-resistant, and incredibly easy to maintain and keep clean.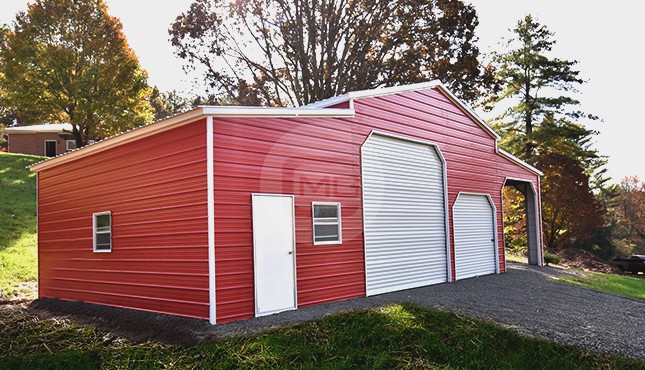 Getting Your Metal Barn Ready to Party
If you're ready to start making plans for installing your own custom metal barn and getting it ready for event hosting, here are some good things to include on your checklist:
• Is my property zoned for human occupancy?
Before moving too far along in your planning, you'll want to make sure your property is zoned appropriately. Make sure you're clear about the intended property usage—it will be used for private events where food will be served. In terms of zone compliance for your venue property, you'll need to consider maximum occupation or capacity as well.
• Is there space for adequate parking?
If you're going to use your metal barn as an event venue, you'll need to make sure there's ample on-site parking. Figure out how many vehicles you can fit into the space available on your property.
• What about walking pathways?
How many guests will be moving around your property? Your landscaping may be well-manicured, but grass and dirt still don't fare very well in adverse weather conditions. You might consider creating walking pathways that prevent guests from getting too muddy or dirty.
• Is your property ADA compliant?
The Americans with Disabilities Act (ADA) isn't just a suggestion; it's the law for public facilities. Depending upon the types of events you'd like to host, you might want to include things like ramps and support bars next to your toilet facilities. And don't worry, there are ways to make these adaptations aesthetically pleasing, as well.
• What about food prep areas?
If you plan to use your metal barn as a public venue site, you'll need to plan to add a full-service kitchen or approved food prep area, as well.
• Don't forget your electrical wiring needs
The perfect event venues need the right amount of lighting – both inside and out – as well as enough electrical access points for sound equipment and other needs. If you're planning for a true event facility destination, then sufficient electrical outputs are something you really can't overlook.
• Don't forget about adequate restroom facilities, either
If you're planning to host any number of people, then providing an adequate amount of restroom facilities is also essential. Renting port-a-pots is certainly an option, but it isn't always the most pleasant solution. If you're looking to add some permanent outdoor restrooms, you'll also want to think through how to keep them clean and fresh throughout the duration of your event.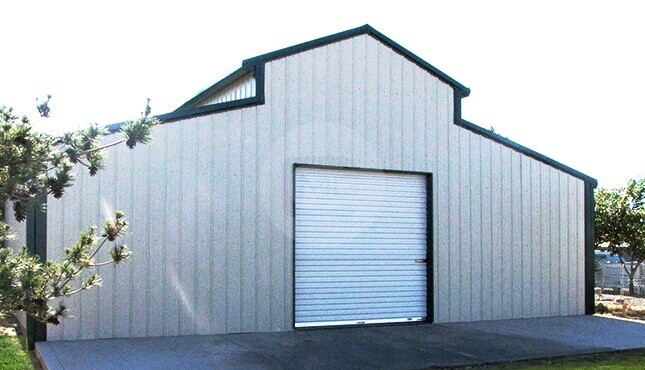 Choose Metal Garage Central for Your Custom Metal Barn Needs
Assuming you don't already have a metal barn on your property, then you'll need to have one designed and installed. And to that end, nobody does it better than the pros at Metal Garage Central!
We do more than just provide the best custom steel structures. We also deliver the best customer service and offer the most positive customer experience. And don't miss the fact that we offer THE BEST financing and rent-to-own options in the business, too!
We're happy to deliver and install your custom metal barn or metal building at NO extra charge, anywhere within our 46-state service area. But perhaps you're someone who prefers to get things done with your own two hands. If so, we've got you! We make custom metal building kits available, too.
By choosing one of our metal building kits, you still get to design the custom building you want & need, and all the metal building components are specifically fabricated to meet your exact needs. You'll be provided with all the necessary building materials, and then you can go about installing your own metal building on your schedule. And here's another benefit of going with a metal building kit you'll receive a discount on your metal building purchase price!
Our friendly & knowledgeable building experts are here to help! You can connect with us online at Metal Garage Central, or for a faster response; you can simply give us a call today at (980) 223-3072.
We invite you to experience the Metal Garage Central difference for yourself!