Metal Barns
What can you do with a prefab metal barn? Honestly, the better question is what CAN'T you do with one of these versatile metal barns. Unlike a traditional barn made out of wood, a steel-framed barn won't rot or fade, requires almost no maintenance, and is really built to last! Naturally, these barns are popular around the farm, commonly used for stabling horses, sheltering livestock, keeping feed and crops, etc. A metal garage barn is also a great place for parking vehicles and equipment, and a metal storage barn can be used for all sorts of general storage needs.
Getting the Metal Barn You Need
There are many other great applications for metal barns too, including residential barndominiums, office space, retail locations, event venues, and more. But part of getting the barn you need comes really comes down to choosing the right building customizations and accessories. Of course, before you get to that point you'll need to first decide how you want to use your barn, and how big of a metal barn you'll need.
One great thing about going with a metal barn is the fact that a steel structure can be designed to meet pretty much any building dimensions you may require. A metal building's width, length, and height are essentially up to you. A capable metal buildings provider like Metal Garage Central can get you whatever you need!
Once you have a good general idea of what you're looking for in a metal barn, then you can move on to consider specific customizations and accessories like access points, door types, windows, paneling colors, and so on.
Common Metal Barn Customization Options
Whenever it comes to metal building features and accessories, you truly have more options available to you than you may realize. How would you like to customize your barn building? You can select everything from building dimensions, to roof design, to steel gauge, to colors, doors, windows, wind & snow certification, and more!
• Barn dimensions
You can go with a small hay barn, or can design a barn that's 70' wide. You can also go much wider than that, if you have a truly commercial-sized barn application in mind. You also get to choose whatever building length and height that's right for your needs.
• Roof style
The vertical roof style is the premium option whenever it comes to metal buildings, but there are several different options when it comes to the look of your barn and its roof. A raised center barn (also known as step down barns, drop down barns, or Carolina barns) includes a taller center section that's flanked by shorter sections on each side. These have a distinctive look, and are both practical and functional. Straight roof barns (also commonly known as continuous roof barns or Seneca barns) feature a single, continuous roof slope with a central roof peak. These barns work especially well for handling heavy rain and accumulating snow.
• Steel gauge
14-gauge steel is a common standard for metal building framing, but you can also opt for a thicker 12-gauge steel frame for an even more durable barn building. You've got options when it comes to choosing the gauge of your barn roofing and paneling, too.
• Roof, panel, and trim colors
Of course, you can always go with a classic barn red, but that certainly isn't your only option. At Metal Garage Central, we offer 17 colors from which to choose for your roof panels, side paneling, and trim. Like a two-tone wainscot look? We can do that as well!
• Clear panels
Like to add some skylights to your barn? You can opt to have one or more clear panels installed on your roof to let in some natural light. Or you can turn your metal building into a fully functional greenhouse by having clear panels installed across both the roof and sides. Metal Garage Central has experience in installing metal greenhouses for local customers, we'd be glad to help!
• Gables & decorative trim
Depending upon the barn style you choose, you can add gables to the front or back to create a more finished look, and also provide some more structural reinforcement. Decorative J-trim can also be added to cover any exposed paneling edges. We also have an assortment of different anchors which will enable you to place your barn on nearly any type of level installation surface, including bare ground!
• Multiple foundation options
Where would you like to install your barn, and on what type of foundation? We have many different types of anchors we can use to secure your barn to concrete, asphalt, gravel, or even plain level ground if that's what you prefer.
• Access points
Your barn won't do you a whole lot of good if you can't get inside! With Metal Garage Central, you get to choose the number, type, and locations of your barn entry points. We offer manual roll-up doors, electric roll-up doors, walk-in doors, and open frame-outs. We provide window installation as well.
• Certification
Is building certification required for your barn? Metal Garage Central can certify your barn for whatever wind or snow load ratings may be needed to meet the code. And even if certification isn't a legal requirement in your area, we recommend certification for the greater peace of mind it offers.
• Vapor barriers & insulation
We recommend having a vapor barrier installed to help minimize and prevent any potential condensation issues; there are both single bubble and double bubble vapor barriers available. Want to add some more insulating value? A ProDex equivalent vapor barrier is a great way to boost the R-value of your building, and is a good choice if you're planning to finish out your barn for residential or office space.
• More ways to customize, too!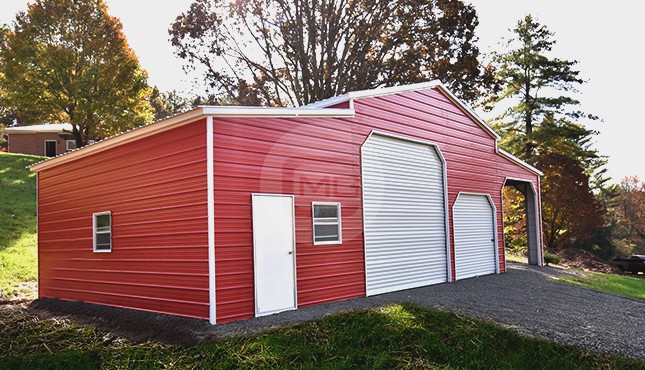 Choose Metal Garage Central for Your Custom Metal Barn
Metal Garage Central provides the very best custom steel structures, and our metal barn prices are very competitive. In addition, we deliver the best customer service in the business, and we offer THE BEST financing and rent-to-own options you'll find anywhere!
We're happy to deliver and install your custom metal barn at NO extra charge in our 46-state service area. We also make custom metal building kits available at a discount, if you'd prefer to install your metal barn yourself.
Our friendly & knowledgeable building specialists are here to help! You can connect with us online at Metal Garage Central, or for a faster response, just give us a call today at (980) 223-3072.
Experience the Metal Garage Central difference for yourself!