High Spirits and Severe Weather: Welcome to Oklahoma!
If you're looking to live somewhere that's full of an energetic, can-do spirit, you're probably looking for Oklahoma! This remarkable place to live, full of breathtaking scenery and every climate imaginable, has been down on its luck in recent years. But with a growing economy, there's no better place for manufacturers to set up shop. And the gorgeous mountain views aren't too shabby either!
However, the varying climates that make Oklahoma so enticingly beautiful can also make it a challenging place to live. This state, on average, has nearly 100 days over 90 degrees and 140 days where the temperature drops below freezing. Combine that with heavy snowfalls in the panhandle, monsoon-like weather during the Spring in the east, and 3000 hours of bright sunshine, and you have a state where buildings need to stand firm against anything and everything.
Choosing a Barndominium in Oklahoma
Oklahoma's extreme weather can be intimidating for those looking to move to the state, but there's no reason to be worried! Metal Garage Central offers premium metal building homes that stand strong no matter what Mother Nature throws your way. These metal buildings are forged from durable steel with thick, durable framing and paneling. Steel doesn't rust through, it's impervious to creepy critters, it's fire-resistant, and it lasts for decades to come. This makes it the best material for a new home in Oklahoma.
We do more than metal building homes in Oklahoma at Metal Garage Central, though. We also offer premium barndominiums! What is a barndominium, you may ask? Traditionally, barndominiums are structures that bring your barn and home together into one unit. Farmers love the convenience of having their horses or livestock nearby, as there is no longer the need to trek through the weather each morning to get to your barn. However, a barndominium home doesn't have to stick to that original definition! They can be used for any purpose you want! Bring your home and work together or give your hobby a dedicated space. No matter what you use it for, the rustic beauty of a barndominium is exactly what you've been looking for!
Choose a Barndominium to Stay Safe No Matter What the Weather Throws Your Way
Living in Oklahoma can mean often facing extreme weather, but it doesn't have to be stressful. Metal barndominiums are some of the most secure structures on the market! They will keep you and your stuff safe no matter what the weather has in store.
1. Barndominiums Are Unique to You
If you need a unique space that's entirely your own, there's no better option than a barndominium. These metal building homes are fully customizable! You can adjust the dimensions and layout of your building, the types of doors and windows, the framing and paneling gauges, and even the certifications. We make sure that your metal building is designed precisely the way you want. The ability to custom-build your home or barn is especially important in Oklahoma, as every area of the state faces its own unique weather conditions.
2. Barndominiums Have Strong Walls
Barndominiums are made of strong, galvanized American steel. In addition to that strength, we offer two different paneling gauges here at Metal Barn Central for your premium metal building home. The first option is 14-gauge steel, a sturdy, time-tested option. It is rugged, durable, and will withstand just about anything Mother Nature has up her sleeve! However, if you're looking for protection and security that goes above and beyond, we also offer 12-gauge steel. This paneling is thicker than the standard option and withstands any weather type.
3. Barndominiums Have Beauty & Brawn
Barndominiums come standard with vertical roofs. These are the best roof types in the industry. Vertical roof systems are peaked like traditional home roofs with vertical paneling that channels precipitation and debris off and away from the structure with ease. This is a fantastic option for Oklahoma metal homes due to the extreme variations in rainfall, hail and ice, and torrential snowfalls. Additionally, these vertical roofs help your building withstand high winds. These roof types are simply the best combination of beauty and brawn!
4. Barndominiums Are Rooted
In areas prone to tornadoes, we know that there's always the threat of flying debris. This debris could easily rip holes in traditional wooden homes or even tear it off its foundation. However, a barndominium gives owners some of the best chances at withstanding such incredible forces. Strong steel walls and secure metal building anchors hold your metal building in place even against terrible winds and debris.
5. Barndominiums Are Resistant to the Elements
Like we mentioned earlier, bardominiums are fire-resistant and water-resistant. Steel doesn't burn—only intensely high temperatures will damage it—so you and your belongings will stay safe inside. Not only is it fire-resistant, but it is also water-resistant. Steel isn't porous like wood or similar building materials, so it can't absorb water, keeping your home safe from the harmful effects of the mold and mildew that can form in moist, damp environments.
6. Barndominiums Are Certified
If you are living in Oklahoma, your barndominium will need to have certain certifications. These certifications ensure that your metal building is built to withstand specific loads. In fact, all of our metal building homes are manufactured to meet the local codes and load requirements in most states. This ensures that no matter where you live or what weather you face daily, your metal building will hold up to it.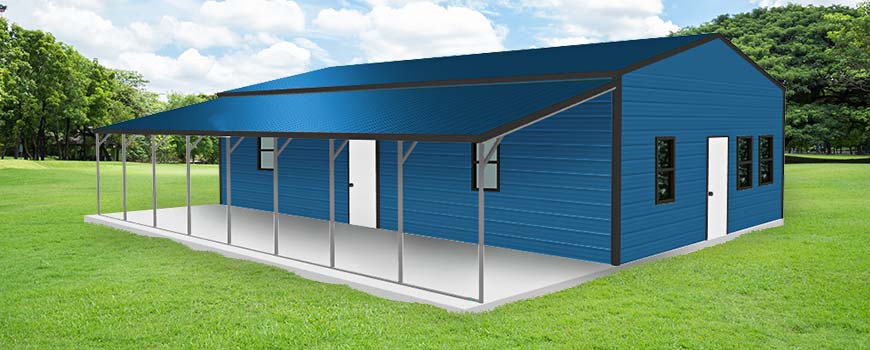 How Much Will an Oklahoma Metal Building Cost?
We're sure the question at the forefront of your mind is, "How much will this cost?" It's an important question! After all, you need to have a budget in mind for any project before digging in. We want the design and building process to be simple for you at Metal Garage Central, so let's walk through the four factors that will most affect the price of your new barndominium.
1. The Size
The most obvious factor that will affect the price of your new metal building home is its size. A general rule of thumb is that the bigger your building is, the higher the price. Larger buildings will typicallly require more materials and more labor to construct, therefore increasing production costs.
2. The Customizations
You can customize your barndominium to meet your every need, but you will want to keep in mind that the extent of customization directly affects the price of your new metal barndominium home. The more you customize, the higher your overall price will likely be. Here is a quick list of the things you can customize:
Roofing gauge
Framing gauge
Paneling gauge
Window style
Door style
Color
Wainscotting
Add-ons
3. The Requirements
Certifications, codes, and permits are all necessary parts of the process. It's important to remember that the more extensive the certifications are, the higher your barndominium's price will be. You'll want to take special care to consult with your local zoning administrator to find out your particular area's codes and certifications.
4. The Global Market
Your barndominium is forged from galvanized steel designed to stand up to everything it faces. This means that the price of your new metal building will be dependent on the current state of the global steel market. Steel is a global commodity that is mined and sourced from around the world. When there is scarcity, the normal cycle of supply and demand ensues. High demand and low supply mean that prices will go up. The reverse is also true; when there is a high supply, prices tend to go down.
Yes, You Can Afford a Barndominium in Oklahoma!
Now that you know what factors affect your metal building's price, it's time to talk about how you're going to pay for it. Metal Garage Central offers two fantastic payment programs that make the process a breeze.
Rent-to-own
With same-day approval, monthly payment plans, and no credit checks, our Rent-to-Own program is one of our most popular options. Not only do you get access to all these benefits, but with the rent-to-own program, you can pay off your structure at any time with no credit penalties or fees!
Financing
Our financing program is a more traditional option for buyers! This program requires a credit check, but you'll know whether or not you've been approved in as little as a few minutes. We work with reputable financial institutions that are determined to make things easier for you. Plus, there are no hidden fees!
A Stunning Example
If you're still on the fence about barndominiums, this gorgeous structure in Bray, Oklahoma, is sure to change your mind. With copper trim and a striking charcoal exterior, it catches everyone's eye. The clean white doors pop in the best way possible, giving the entire structure a stunning finished look.
There's more to the barndominium than just a breathtaking exterior! This metal building home features over 1400 square feet of living space, an 800 square foot garage, and a 760 square foot porch. This beautiful home gives you all the space you could ever need to live, work, and play!
It's simple! If you want a rustic structure with a modern twist, you need a barndominium.
Building Your Dream with Metal Garage Central
Metal Garage Central is your one-stop-shop for high-quality metal buildings! We provide premium steel structures that are certain to bring your dream to life. Everything we provide is fully customizable and made to meet your every need. Not only do we provide some of the best barndominiums on the market, but we also offer the best customer service around. Our fantastic building specialists are knowledgeable, experienced, and ready to make your dreams come true. Call us today at (980) 223-3072 to see what a difference Metal Garage Central can make in your life!