You Need a 40×80 Metal Building
Do you find yourself with an unusually sized lot for your business or building? Is it longer than it is wide? If this situation is familiar, then you may need the 40×80 metal building from Metal Garage Central. This metal building gives you 3200 square feet of useable space with dimensions that work well in narrow lots.
These industrial metal buildings are an excellent option for nearly any purpose. Steel is one of the strongest materials around, is easy to maintain, and will last for years to come. Additionally, steel is also pest, mold, and mildew resistant, keeping your valuables safe.
The Possibilities are Endless!
When we say that a 40×80 commercial metal building can meet any need, we mean it! Thanks to the endless customization options, these clear span metal buildings can be used for industrial, commercial, agricultural, and residential purposes. Here are some of the possibilities:
1. Agriculture
If you own a farm or any agricultural business, these industrial metal buildings and metal building kits are a terrific option for you. They are easy to clean and maintain, making them perfect for stables, barns, or feed and crop storage. 40×80 metal buildings can also be used for heavy equipment storage to keep your tractors and combine harvesters out of the elements.
2. Equipment storage
Much like the agricultural sector, these commercial metal buildings make fantastic equipment storage facilities. 40×80 metal buildings utilize a clear-span design, providing them with lots of open space without support columns. This layout makes it easy to maneuver, park and store your equipment.
3. Cars
If 40×80 metal buildings make excellent equipment storage facilities, it's no wonder they also make great garages and places to store your vehicles. These strong steel structures will keep your cars and trucks protected from harmful UV rays, heavy downpours, falling debris, and anything else Mother Nature throws its way.
4. Home offices
If you want to extend your office space or start a new business, choose the 40×80 metal building! These structures are completely customizable and can be finished to make any style of office.
5. Recreation areas
Do you want to install a playground or build a park? Why not choose to install a covered recreational facility instead! While 40×80 metal structures may seem like they're just industrial metal buildings, but they actually make perfect large indoor playgrounds, or walking tracks!
6. Just plain storage
Maybe you don't have a grandiose plan for your new metal building kit; perhaps you just need somewhere to store your stuff. Well, the 40×80 metal building is the perfect place to do just that! With 3200 square feet of useable space, you will have room for all the shelves, storage containers, and boxes you could possibly need.
No matter what purpose or need you have, the 40×80 metal building is the solution. The possibilities are endless!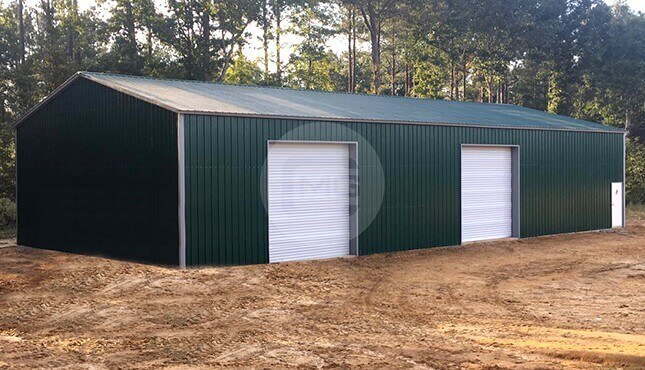 Here's How You Can Use the 40×80 Metal Building for Your Business
Thanks to the versatility of these commercial metal buildings and metal building kits, 40×80 buildings are the perfect option for new business owners looking for "brick and mortar" spaces. The 40×80 metal structure offers lots of space and will save you money during and after construction. It doesn't get much better than that! Here are just some of the ways you can use your new 40×80 metal building for business purposes:
• Restaurants
With lots of open space that you can easily customize to fit your needs, 40×80 clear span metal buildings are a fantastic option for restaurants. They can be constructed quickly and provide ample space for tables, chairs, bars, and even patio dining at a fraction of the cost of traditional wooden buildings.
• Caterers and bakers
Similarly to restaurant owners, bakery owners and catering businesses would greatly benefit from having a 40×80 metal building. These structures can be easily maintained and outfitted with all the ovens, refrigerators, and various equipment you would need to run your business.
• Florists
If you are a florist, you need somewhere to store and display your flowers. And for that, you're going to want plenty of space! Clear-span buildings offer that in spades, giving you an abundance of open space to conduct business. You can even split the square footage into both retail and production space! 40×80 metal buildings can also be converted into greenhouse space!
• Warehouse and storage
In a world where online shopping is increasingly prevalent, warehouse space is becoming more and more necessary. You need somewhere to manufacture and store your stuff! And for that, one of the best options is a premium 40×80 metal building. These structures are low maintenance, durable, and offer unparalleled space.
• Hospital storage
Hospitals are a vital aspect of our community. And due to an ever-growing population, we will always need more space to handle medical treatments and emergencies. A commercial metal building is an excellent choice for medical facilities due to the low overall cost, durability, and low maintenance needs.
But don't feel limited by these options! The possibilities are endless for a structure as versatile as a 40×80 metal building. The only real limits are your budget and your imagination!
All About Kits and Customizations
All the metal buildings and metal building kits we provide at Metal Garage Central are 100% customizable. There is no need to worry about your metal building not fitting your aesthetics or meeting your needs! If you are wondering what you can customize, the short answer is everything! To start, we've put together a list of some of the things you can customize:
The roof paneling gauge
The wall paneling gauge
The foundation anchors
The roof and wall colors
The trim color
The dimensions
The type and placement of doors and windows
The customizations
And so much more!
Are you someone who likes to do things yourself? Maybe you have a background in construction or know your way around your toolbelt. If that sounds like you, then Metal Garage Central's high-quality metal building kits may be a perfect option for you! These kits are made from the same premium steel and include everything you need to construct a top-notch metal building. The only difference between these kits and our traditional metal buildings is that you install your metal building yourself! You save even more money when you choose a kit! We provide a discount for handling the installation yourself.
Get Your Dream Metal Building from Metal Garage Central
Are you ready to buy your very own 40×80 metal building? Well, what are you waiting for? Give Metal Garage Central a call! Our buildings are constructed from the finest galvanized steel and engineered to outlast just about any other building type. You'll have tons of space and save a pretty penny in the process on the minimal maintenance and upkeep they require. Reach out today at (980) 223-3072  and let one of our knowledgeable building experts guide you through designing and customizing your new metal building.