Black barndominiums are all the rage
The barndo trend has been growing in general, but one particular style of metal buildings with living quarters that's really taking off is black barndominiums. Why is that? Perhaps it's because the look of the black paneling itself is so distinctive, and black also pairs well with external wood features or other earth tones you might want to include. We design and install barndominium kits of all colors at Metal Garage Central, but we've noticed that black barndos have become increasingly popular among our metal building home customers.
Can a metal barn with living quarters really be a good residential solution for you? It absolutely can. You're probably already aware of the strength and durability of steel structures; they've been used as metal carports, garages, and barns for years. But since metal buildings are so flexible and customizable, they make great barndominiums and metal building homes, too.
Not all barndominiums have traditional roof designs
Ever given any thought to a single slope barndominium? Maybe you should. While many barndominiums are constructed with an A-frame or more traditional barn style, step-down roof design, those aren't your only options. The single-slope roof design is known to be effective for storage sheds, loafing sheds, and commercial self-storage buildings. Turns out, a single slope roof works great on barndominiums, too! We've installed a number of these ourselves, and customers really seem to like the unique look of a single slope building, paired with the fact that the roof drains away precipitation so effectively. Single slope buildings can be designed to meet whatever amount of residential square footage you're going for, and include an interior floor plan that's completely customizable.
What makes a black barndominium a good residential building solution?
There are many reasons you should consider choosing a steel building home solution; here are just a few:
Cost-effective to build
We understand that building price is an important concern for many American homebuyers today. You're probably aware that construction material costs have generally risen across the board in recent years. Even so, a steel home is still a more cost-effective construction approach. And the larger the building you're planning, the more you can save per square foot by going with steel tube framing and steel exterior paneling. A steel-framed home is around 30% cheaper to build than a stick-framed home on average. It's really a better building, too!
Greater flexibility of building design
How would you like to have an interior floor plan that's easily dividable, and completely customizable? A clear-span metal building can deliver options that a stick-framed home simply can't. The steel tube framing is engineered to support the weight of both the roof and the rest of the building, without needing any type of internal support poles or columns. That means your building interior is a blank slate that you can tailor and personalize however you'd prefer.
Goes up faster
Stick-built construction can take many months to complete, or even longer. But metal barndominium installation is a more streamlined process. All custom steel building components come to your site prefabricated, pre-welded, premeasured, precut, and ready to install. That means a metal building home kit goes up much faster than a comparable stick build, with less required labor. And if you're a DIYer who likes to do things yourself, you can even design and order your own custom metal building kit that you can install yourself.
Increased energy efficiency potential
If you're like a lot of folks, you may assume that a wood-framed building will be more energy-efficient than a steel building. That's not necessarily true! A well-insulated metal barndominium can actually be 40% more energy-efficient than a comparable stick build. Surprised? This has to do with the fact that steel tube framing is more dense and compact than wood framing, meaning more wall cavity space is available for filling with insulation. And the more insulation you can install, the easier it is to maintain a comfortable interior living environment. This means less demand on your air conditioner, and increased savings on your power bills. More insulation also means you'll have to endure less external noise pollution.
A more eco-friendly construction approach
You know that trees are a renewable resource, but a lot of construction-grade lumber isn't produced in a sustainable manner. The steel used in fabricating buildings for Metal Garage Central, however, includes a minimum percentage of recycled content, and the final steel building components themselves are 100% recyclable. And using precision-fabricated steel components means there's essentially no waste material produced on the construction site, which means less to end up in a landfill. All things considered, a steel building home is really one of the most eco-friendly construction approaches there is!
Steel is stronger, more resilient, and more reliable
How else is steel better than wood? Galvanized steel is engineered to be incredibly rugged, resilient, and long-lasting. It's also more resistant to natural threats like rain, snow, wind, fire, lightning, and pests. A steel structure is also easier to maintain and keep clean. Oh, and here's one more cost benefit to keep in mind. A steel structure is generally cheaper to insure than a comparable stick build.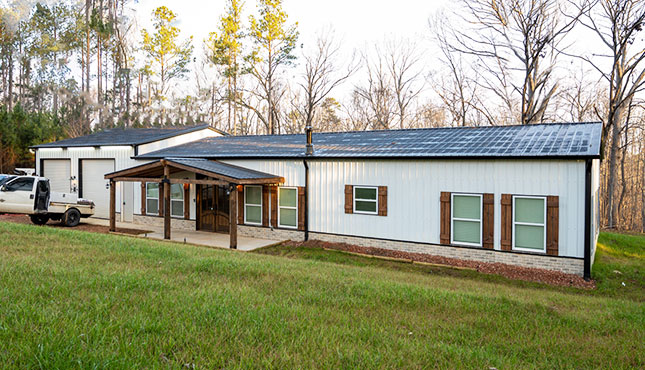 Make plans to get your perfect black barndominium
Start by choosing a reputable metal barndominium provider like Metal Garage Central. We can facilitate every aspect of building design, manufacturing, delivery, and installation. Don't want to go with a black barndominium? That's fine, we've got a full palette of colors from which to choose for your roof, side paneling, and trim.
Once you finalize your building order, you'll just need to obtain all necessary local building permits, make sure your foundation is ready-to-go, and then we can handle the building installation for you. After your building is fully installed, you'll just need to bring in some local contractors to handle your wiring, plumbing, insulation, drywall, and other interior finishing. You'll save money by choosing a metal barndominium, and you'll also be able to get the exact home building you want and need.
Looking for a perfect metal home solution? Metal Garage Central has you covered!
Metal Garage Central provides quality black barndominiums, barndos in all other colors, and a wide range of other quality steel structures. We provide the best customer service in the industry, too. Looking for good financing options? Nobody beats us there, either. We even offer exclusive metal building home mortgage financing solutions!
There's no need to wait any longer. Our friendly & knowledgeable building experts are standing by to help right now! Just give us a call at (980) 223-3072, and experience the Metal Garage Central difference for yourself.